Biggest Argentina Food Company Seeks Partner For Asia Growth
Published on Nov 8 2017 2:09 PM in A-Brands tagged: Argentina / Confectionery / Arcor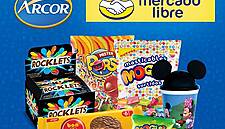 The world's biggest maker of hard candies is seeking a strategic partner to help it expand outside Latin America.
Arcor SAIC, the closely held Argentine food conglomerate, would be willing to do a stock swap with a partner to get access to more overseas markets, especially in Asia. Luis Pagani, the chairman and a majority owner with family members, says that while talks haven't begun yet, Arcor's family ownership might appeal to other global candy makers that value similar structures. Ferrero International SA and Mars Inc. are among those kind of family owned confectionery companies, he said.
"We all know each other," Pagani, 60, said in an interview at his office in Buenos Aires. "I know all the owners and they know the importance of Arcor in America. The opportunities will surface."
Share Sales
Arcor will likely seek to sell shares at some point, and Argentina has become a favorite of emerging-market investors looking to profit from President Mauricio Macri's pro-business policies, but Pagani says he feels no pressure to rush an offering right now. Argentine companies have $2.6 billion of share sales in the pipeline, on top of the already $15.7 billion in equity sales and debt issuance since Macri took office in December 2015.
"We would never do an opportunistic IPO," Pagani said. "We would only do it looking to the future, as a way to expand to other markets outside Latin America, most likely Asia, where half of the world's population lives."
Pagani said Arcor, the maker of Bon o Bon bonbons, Aguila chocolates and La Campagnola fruit jams, will most likely finish this year with revenue of $3.1 billion and earnings before interest, taxes, depreciation and amortization of $300 million, cementing its status as Argentina's biggest food producer.
Arcor owns 51 percent of Bagley Latinoamerica SA, a Buenos Aires cookie producer whose remaining stake is held by Danone. It also has a strategic alliance with breadmaker Bimbo SA in Mexico and a branding alliance with Coca-Cola Inc. to sell products in Peru.
Further Acquisitions
The company will seek to make acquisitions in Latin America, particularly consumer, agribusiness and packaging businesses in Mexico and Brazil, which Pagani said it could pay for by using its cash flow taking on new debt.
The food producer has the lowest borrowing cost among Argentine peers, and Moody's Investors service rates Arcor's $500 million of bonds. Since the notes were sold in June 2016, they've returned 15 percent, beating the emerging-market corporate average of 9.8 percent.
In Brazil, Pagani is watching for a decision by the country's antitrust regulator that may force Nestle SA to divest from some of its businesses. In Mexico, the consumer sector is appealing as the market is heavily segmented and Mexicans are high sugar consumers.
A long-term grower of sugar cane for its candy business, Arcor is testing other agribusiness ventures. It became a strategic partner with Argentina's largest dairy producer Mastellone SA in 2015, and as part of the agreement has the option to become the controlling shareholder by 2021, or even earlier if it pays a premium to Mastellone bondholders.
Pagani says the association has opened the door to exporting milk-based products to Africa, the Middle East and Asia, where competing products are coming from New Zealand.
Final pricing will depend on Mastellone's profit levels at the time of closing the deal. The dairy company had adjusted earnings of $70 million in 2016, and is poised to end 2017 with almost $100 million, according to Mastellone's bond filings.
Pagani declined to give a value for Arcor, which he and his siblings own a majority stake in, citing security concerns. But he says the business is poised for long-term growth.
News by Bloomberg, edited by ESM. Click subscribe to sign up to ESM: The European Supermarket Magazine.