Danone To Diageo Set for Boost From China Cuts On Imported Goods
Published on Nov 24 2017 8:29 AM in A-Brands tagged: Trending Posts / China / Export / Tarriffs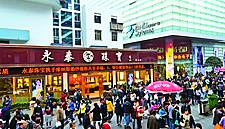 China's new plan to slash import taxes on a wide range of consumer goods promises to boost the prospects of multinationals in the Chinese market, with everything from Procter & Gamble Co.'s baby diapers to Diageo Plc's whiskey becoming more affordable to local consumers.
Tariffs for 187 product categories will drop from an average 17.3 percent to 7.7 percent after the cut on Dec. 1, the Ministry of Finance said in a statement Friday, citing the need to help consumers access quality and specialty products which aren't widely produced locally.
The new policy follows President Xi Jinping's call at the October Communist Party conclave to meet citizens' demands for improved living standards and better quality products in the world's largest consumer market. Foreign multinationals stand to benefit as middle-class consumers seek out goods stamped with foreign brands, while the cuts also encourage consumers to spend at home rather than on trips overseas.
Quality Focus
"It's aimed at three things: helping boost consumption in China, reforming the Chinese economy by continuing to open it up, and sending a signal to the world and particularly to the U.S. that it is committed to advancing global trade," said Shane Oliver, head of investment strategy at AMP Capital Investors Ltd. in Sydney.
Robust consumption is an increasingly important stabilizer for the world's second largest economy, as it shifts away from an investment- and export-led growth model. Domestic consumption contributed 64.5 percent of GDP in the first three quarters of 2017, according to the National Bureau of Statistics.
Items in Friday's list of tariff cuts are part of broader categories of consumer goods which made up around 30 percent of China's total imports in 2016, according to Bloomberg calculations. China's retail sales totaled more than $5 trillion last year.
The CSI 300 Consumer Staples Index fell as much as 2.6 percent on Friday, led by Inner Mongolia Yili Industrial Group Co. and food companies Henan Shuanghui Investment & Development Co. and Muyuan Foodstuff Co. The gauge has plunged 6.1 percent this week, the most since January 2016.
"China is trying to encourage more foreign companies to sell locally and wants to give consumers more choice,"said Matthew Crabbe, Mintel International Group Ltd.'s director of Asia-Pacific research. "What it will do is help foreign products already within the market get more competitive."
Procter & Gamble Boost
Among the foreign companies poised to benefit is Procter & Gamble, which gets 8 percent of its sales from Greater China. P&G, the owner of brands such as Crest, Gillette and Tide, may get a lift from cuts to items including diapers, personal care products and dental products. For instance, the tariff on electric toothbrushes will fall from 30 percent to 10 percent.
Tariffs for some types of baby formula were cut to zero, triggering losses in Chinese dairy stocks. Inner Mongolia Yili retreated as much as 5.8 percent, while China Modern Dairy Holdings Ltd. lost as much as 2.6 percent in Hong Kong.
The government's plan to eliminate tariffs on some types of milk powder will help companies like Danone and Nestle SA that compete with local brands in the large market for infant formula. The country's infant formula market will increase about 15 percent to 123 billion yuan ($18.7 billion) by 2020, according to a Goldman Sachs Group Inc. report in October. Chinese parents worried about a series of food-safety scandals often favor foreign brands.
China will slash tariffs on bidets by more than two-thirds, to 10 percent, a cut that could help Toto Ltd., the Japanese maker of toilets and other bathroom fixtures. Toto shares touched a record high Friday.
Bolstering Imports
China has faced criticism for not doing enough to bolster imports, a move that would help balance the trade surpluses that it runs with a raft of other countries. Commerce Minister Zhong Shan said this month that a range of measures to open domestic markets will be taken to support demand for imports, a move that could help narrow the $327 billion trade gap with the U.S.
"It is unlikely to move the needle much on the trade balance but it is still a small, solid step forward," said Christopher Balding, an associate professor at the HSBC School of Business at Peking University in Shenzhen. "China is moving to a consumption economy and with so much cross-border commerce streaming in across these product segments, they are under pressure to lower tariffs."
Taxes for a range of medicines, including various antibiotics and insulin products, were lowered to 2 percent from as much as 6 percent, potentially a big win for multinational drug companies such as Pfizer Inc. and Novartis AG which import many of their drugs into the country. China's medical imports stood at $22 billion in the first 10 months of 2017, according to latest data from the General Administration of Customs.
The biggest reduction came for vermouth or similar alcohol, from 65 percent to 14 percent, according to the statement. Whiskey tariffs were cut to 5 percent from 10 percent.
China will host its first-ever import fair in November next year, and will roll out tax, fiscal and administrative initiatives aimed at helping foreign firms sell more into what is becoming a big and sophisticated consumer market, Zhong said earlier this month.
News by Bloomberg, edited by ESM. Click subscribe to sign up to ESM: The European Supermarket Magazine