ESM at Consumer Goods Forum Global Summit: Food Waste Agreement Launched
Published on Jun 25 2015 11:37 AM in A-Brands tagged: Consumer Goods Forum / Global Summit / New York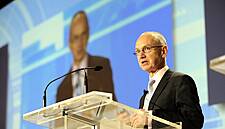 ESM: The European Supermarket Magazine is at the Consumer Goods Forum Global Summit in New York this week, where a historic agreement to halve food waste by 2025 has been announced.
The initiative has been put in place to help drive positive change in the consumer goods industry, and the Forum said that the changes brought about by the resolution will benefit consumers, businesses and society whilst improving consumer trust.
Consumer Goods Forum (CGF) members also pledged to reduce food losses throughout production and supply chain, while maximizing the value of any remaining waste.
Currently, 1.3 billion tones of food waste is being produced each year, which has an estimated value of $750 billion.
The CGF also launched a series of free tools to improve business efficiency and consumer trust, which includes a health and wellness online platform called Consumer Goods for Better Lives, a Consumer Engagement Principles online companion handbook, and a new Quick Scan application, which helps companies self-assess their supply chain management against international best practice.
Commenting on the announcement, Peter Freedman, Managing Director of The Consumer Goods Forum (pictured), said, "The consumer world is constantly evolving and so it's important the CGF remains at the forefront of serving the industry's best interests. This year's initiatives emphasise our commitment to creating innovative solutions to the serious issues affecting our planet.
"I'm proud that our members have worked together to come to an agreement on this positive series of major initiatives. This shows that businesses have a key role to play in making the world a healthier, safer and more sustainable place."
© 2015 European Supermarket Magazine – your source for the latest retail news.