ESM at Consumer Goods Forum Global Summit: New CGF Co-Chairs Appointed
Published on Jun 25 2015 11:41 AM in A-Brands tagged: Consumer Goods Forum / Global Summit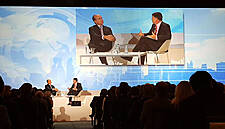 The Consumer Goods Forum (CGF) has announced that it has elected two new co-chairs to its board: Gareth Ackerman, Chairman of Pick n Pay and Denise Morrison, President and Chief Executive Officer of Campbell Soup.
The announcement was made at the CGF Annual Summit, taking place in New York this week. The newly appointed co-chairs will lead the CGF Board for two years, replacing outgoing co-chairs Dick Boer, President and Chief Executive Officer of Royal Ahold, and Paul Bulcke, Chief Executive Officer of Nestlé.
Denise Morrison will be the CGF's first ever female co-chair. Commenting on her election, she said: "I am excited by this opportunity to serve as co-chair to lead the Consumer Goods Forum's Board and drive the mission forward promoting 'Better Lives through Better Business'. The organization addresses some of the most important issues facing consumer goods companies globally. Seismic social, economic and technological shifts are transforming consumers' expectations of companies and the products we make.
"By harnessing the collective efforts of our industry to build and sustain consumer trust, we have the opportunity to drive both growth and positive change by meeting the needs of people worldwide."
Gareth Ackerman, an experienced member of the CGF Board, is also delighted to take on his new role, saying that he is particularly excited to be the first co-chair from Africa, home to the world's fastest-growing population.
In addition, Ian Cook, Chairman, President and Chief Executive Officer of Colgate Palmolive, and Marc Bolland, Chief Executive Officer of Marks & Spencer have been appointed as the new vice co-chairs (in the Retailer College and Manufacturer College respectively).
© 2015 European Supermarket Magazine – your source for the latest retail news.