Imperial Brands Drops CEO's Raise After May Decries Pay Gap
Published on Jan 27 2017 9:30 AM in A-Brands tagged: Trending Posts / Tobacco / Imperial Brands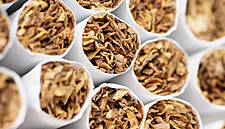 Imperial Brands Plc handed U.K. Prime Minister Theresa May the first big win in her campaign to rein in bosses' pay, dropping plans to give its chief executive officer a raise of as much as 3 million pounds ($3.8 million).
The Davidoff cigarette maker withdrew a proposed change in its incentive plan that could have lifted CEO Alison Cooper's compensation to 8.5 million pounds for the current fiscal year. The move heads off a potential showdown with shareholders at the company's annual general meeting next week and sets the stage for further investor revolts over pay.
The about-face follows May's denunciation of the "irrational, unhealthy and growing gap" between the pay of workers and executives, amid concerns that it's fueling unrest among electorates. Despite shareholder protests last year against WPP Plc CEO Martin Sorrell's $89 million compensation and BP Plc chief Bob Dudley's $19.6 million package, most U.K. companies stuck with their plans.
"The retreat by Imperial Brands is the first sign that some institutional shareholders are going to take a tougher line on pay packages this year," said Stefan Stern, director of the High Pay Centre, a research group. "The ground is shifting."
Alternative Plan
The structure of Imperial Brands' long-term incentive plan drew criticism from the Institutional Voting Information Service, a shareholder group whose members own about 30 percent of the value of Britain's top publicly traded companies. Imperial Brands said it would speak to investors about a more suitable incentive package for Cooper.
The latest revolt follows the so-called shareholder spring of 2012, in which three CEOs of major U.K. companies -- Trinity Mirror Plc's Sly Bailey, AstraZeneca Plc's David Brennan and Aviva Plc's Andrew Moss -- stepped down after investor complaints about performance. The unrest has focused on pay, which has continued to rise for many bosses.
On average, CEOs of the largest 100 U.K. companies got raises of more than 10 percent, to 5.48 million pounds, in 2015. That was 140 times the average employee wage, according to the High Pay Centre.
May's attack on pay contrasts with the more relaxed approach of her Conservative Party predecessor David Cameron, as well as previous Labour administrations. Peter Mandelson, a former Labour business secretary, once said he was "intensely relaxed about people getting filthy rich as long as they pay their taxes."
While about 60 percent of BP shareholders rejected Dudley's pay last year, that ballot was merely advisory. About two-thirds of large U.K. companies face binding votes on their pay policies this year under new U.K. rules.
U.K. companies are "conscious of the background of a new political administration that is taking a close interest in matters of corporate governance and stewardship," Paul Lee, head of corporate governance at Aberdeen Asset Management, said in an e-mail.
Reckitt Benckiser
Reckitt Benckiser Group Plc CEO Rakesh Kapoor faces a pay cut after receiving 23.2 million pounds for 2015, the maker of Dettol cleaners said this month, without specifying the new level.
Imperial Brands withdrew plans to submit a revision of its remuneration policy for a shareholder vote. Under the proposal, the CEO's long-term incentive award could have risen to 450 percent of salary from 350 percent, a change the company said was aimed at retaining and attracting talent.
Imperial shares, which were up 0.6 percent at 3680 pence in Thursday afternoon trading in London, have underperformed those of rivals like Japan Tobacco Inc. and British American Tobacco Inc. since Cooper became CEO in 2010.
The company said in November that investments in its main cigarette brands would constrain profit growth, and it faces a potentially stronger rival after BAT moved to buy full control of Reynolds American Inc. for $49.4 billion.
Imperial has also chosen to sit on the sidelines in the race to develop safer cigarette alternatives that heat, rather than burn, tobacco. More than one million smokers have switched to Philip Morris Inc.'s "heat-not-burn" device iQOS.
News by Bloomberg, edited by ESM. Click subscribe to sign up to ESM: The European Supermarket Magazine.