Mondelez Launches New Health And Wellbeing Programmes For Children
Published on Sep 26 2015 11:25 AM in A-Brands tagged: Mondelez / Nutrition / Children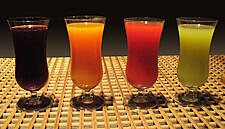 The Mondelez International Foundation has launched three wellbeing programmes aimed at bringing nutrition education, active play and fresh foods to children and their families.
The initiative is part of the FMCG company's multi-year, $50 million commitment to promote healthy lifestyles and address obesity.
The new projects bring global community partners together in an effort to create school environments that encourage children and families to adopt life-long healthy habits.
Over the next four years, the foundation and its partners in Mexico, South Africa and the United States will inspire schools and communities to reach underserved kids and get involved in the three initiatives.
Mexico's Save the Children will improve nutrition and physical activity by promoting active play, nutrition education and gardening to approximately 20,000 children and families. Designed for children ages 2-13, the program will operate in early childhood development centres and primary schools. The foundation is recognised as one of Save the Children's Global Corporate Partners.
South Africa's INMED Partnerships for Children is adapting its award-winning programme from Brazil to South Africa. INMED's efforts, which include school-based gardens, have improved children's body mass index (BMI) and vegetable consumption in Brazil. The programme will now seek to reach 50,000-75,000 children, parents and community members across 100 schools in South Africa.
In the US, the After-School All-Stars will expand its middle school programme to offer nutrition education, cooking classes, urban vegetable gardens and will add BMI tracking to its programme evaluation. It is the foundation's first ever after-school programme geared to middle-school students, and will reach children and families in more than 150 schools in 12 US locations.
The foundation's collective programme will now reach more than one million children and families across 14 countries. Each community partnership will track progress against a universal set of metrics critical to achieving wellbeing: nutrition education, physical activity and access to nutritious foods. These metrics were developed with community partners and public health experts convened by the Mondelez International Foundation in 2013. To date, partnerships in Australia, Brazil, China, India and Russia are on track to deliver results against these global healthy lifestyle metrics.
"The three new wellbeing programmes build on our ongoing commitment to community wellbeing and the fight against obesity, particularly among children. They are perfectly aligned with United Nations' Sustainable Development Goals in the areas of addressing malnutrition and promoting good health and wellbeing," said Nicole Robinson, president of the Mondelez International Foundation.
"As many schools begin a new term, we'll be working alongside our community partners, teachers and parents to establish the foundation for a healthy school year by promoting nutrition basics, encouraging active lifestyles and expanding access to nutritious foods," she explained.
Linda Pfeiffer, president and CEO at INMED Partnerships for Children, said the organisation was proud to partner with the Mondelez International Foundation to prioritise wellbeing in South African communities and schools.
"Through our work with the Foundation in Brazil, we've seen 65 per cent of the children improve their BMI and approximately one-third of these children achieve a normal BMI. In South Africa, we're hoping to achieve similar results through collaborative partnerships among school administrators, local governments, non-governmental organisations and communities."
2015 ESM - European Supermarket Magazine - your source for retail news. To subscribe to ESM: The European Supermarket Magazine, click here.