Natexpo 2019: Focus On Catering, A Booming Organic Sector
Published on Jun 6 2019 3:30 PM in A-Brands tagged: France / paris / Organic food / Natexpo 2019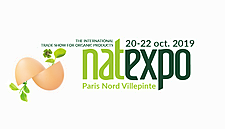 From 20 to 22 October this year, professionals in the organic sector are set to meet up in France, at the Paris Nord Villepinte Exhibition Centre, for Natexpo, the international trade show for organic products and an event that maps out the future of the organic sector.
Among the 1,000 exhibitors, which represent producers, manufacturers, processors, retailers and industry specialists from France and around the world, more than 600 suppliers of organic food and wine will showcase their products, establishing Natexpo as the leading French trade show for organic food items.
This rich resource pool constitutes a one-stop shop, where commercial and collective foodservice professionals can discover all the latest trends and innovations, and get a chance to meet new partners and suppliers.
Demand For Organic Food Among French Consumers
With an average of 7 out of 10 French consumers interested in an organic out-of-home food offering, organic food and drink in catering are on the crest of a wave.
The French would like to see organic food served in school canteens, with 85% of households with children indicating their interest.
Meanwhile, 78% of French people want to see organic food served in restaurants, 76% in hospitals, and 74% in retirement homes.
In response to these expectations, 45% of commercial foodservice outlets surveyed in mid-2018 declared that their offering included organic products.
The market for organic products served in out-of-home catering is estimated to be worth €452 million (figures for 2017, excluding VAT), comprising €246 million in collective catering (up 7% on 2016) and €206 million in commercial foodservice (up 13% on 2016) – and the market potential is far from exhausted.
A Prime Position For Catering At Natexpo 2019
The catering sector will benefit from pride of place at Natexpo.
A special catering visitor trail will be offered.
Visitors will have the opportunity to attend cookery workshops run by chefs and discover the Organic Wine Village.
Business meetings will be organised during the show.
This year's edition will introduce an itinerary dedicated to frozen food.
A Catering-Specific Visitor Trail
To guide catering professionals around the aisles among more than 1,000 exhibiting firms, Natexpo will offer a visitor trail exclusively dedicated to catering.
This trail, featuring nearly 400 exhibitors, will allow the catering professionals to experience the world of collective and commercial catering.
It will help visitors to save time and make the most out of their visit by meeting industry professionals.
Frozen Food: A New Market Segment At Natexpo
To reduce waste and unused food, an increasing number of producers and processors are extending their ranges to frozen food.
Frozen organic food is particularly well suited to collective catering in canteens, hospitals, retirement homes, etc. and provides an efficient response to customers' demands for easy-to-serve products that are healthy and environmentally friendly.
A visitor trail devoted to frozen food will enable catering professionals to discover all the latest products and innovations in the sector.
Cookery Workshop: A Venue For Exchange And Discovery
The Cookery Workshop is a live showcase for organic products used in catering.
This forum for creative expression is a laboratory for cuisine, in which chefs will come to share their inspiration and know-how.
The Cookery Workshop opens onto the aisles of the show, inviting visitors to come and taste the dishes concocted from exhibitors' products.
Every day, chefs will take turns performing 45-minute cookery demonstrations, illustrating the leading trends in organic and highlighting the products supplied by the exhibitors.
These demonstrations will address a wide range of themes, such as collective catering, frozen organic food, zero waste, vegan, raw food, etc.
Business Meetings
During the show, Natexpo will offer professionals the opportunity to come together and develop their business via meetings.
In meeting booths positioned within the exhibition hall, Natexpo will organise targeted appointments between exhibitors and buyers – more specifically, from the catering sector.
These meetings will offer purchasers the chance to understand exhibitors' offerings and innovations in greater detail.
They will enable visitors to save time and benefit from targeted and personalised meetings with exhibitors who match their requirements.
To register for business meetings, click here.
Regional Focus
This feature is a forum at the heart of the show, where inter-professional organisations, federations and regional bodies will share their experience in areas notably including commercial and collective foodservice, through a series of free-to-attend round-tables.
For more information about the event, visit www.natexpo.com.
© 2019 European Supermarket Magazine – your source for the latest retail news. Sponsored content. Click subscribe to sign up to ESM: European Supermarket Magazine.