Nestlé Noodle Controversy Fanned By Regulators' Opposing Views
Published on Jul 1 2015 3:50 PM in A-Brands tagged: Nestlé / maggi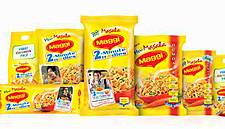 Nestlé's Maggi noodles imported from India are safe for consumers to eat and don't carry hazardous levels of lead, the UK's Food Standards Agency said, leading analysts to question why Indian regulators banned them.
All of the products tested were well within the levels permitted by the European Union, the agency said in a statement. It collected 900 samples, including masala-flavoured noodles imported from India, and others from the Maggi range.
Clearances by regulators in countries such as the UK and Singapore are leading analysts to question why there's a discrepancy with the findings of India's food regulator.
Nestlé, the world's largest food company, recalled its products in that market after authorities said that they found samples that had excessive lead content. Nestlé has maintained that its products are safe.
"We were surprised to see that in Singapore, one of the strictest countries with regard to food safety, the Maggi noodles imported from India were cleared," said Jean-Philippe Bertschy, an analyst at Bank Vontobel AG in Zurich.
Yudhvir Singh Malik, chief executive officer of India's federal food regulator, didn't return an email seeking comment, and calls put through to his office were unanswered. Australian and New Zealand regulators have also cleared Maggi noodles, Robin Tickle, a spokesman for Nestlé, said by email.
The samples tested in Singapore and the UK may not relate to the same batches tested in India, according to Robert Waldschmidt, an analyst at Liberum Capital in London. The Indian authorities first demanded a recall of one batch after testing samples that were past their sell-by date, Nestlé said on 21 May. The company said that batch was already out of the market and the noodles that it was selling were safe.
Lead contamination could arise due to pollution, which is prevalent in India, though the differing opinions of regulators raise the question if the Indian authorities weren't operating partly for political reasons, Waldschmidt said.
"I'm not saying there wasn't any contamination, but it feels to me like it was blown out of proportion, perhaps to make a point," he said.
Singapore's food regulator said on 8 June that its own tests deemed Maggi noodles safe to consume. A court in India ruled Tuesday that Nestlé could start exporting the noodles.
India's food regulator is also investigating whether chocolate-makers have been using vegetable fats instead of cocoa butter (prohibited by Indian food regulations), Bloomberg TV India reported earlier, citing unidentified officials.
News by Bloomberg, edited by ESM