P&G CEO Faces Crisis Over Whether Brand Empire Is Still Too Big
Published on Jul 18 2017 10:06 AM in A-Brands tagged: Featured Post / Brands / Procter & Gamble / P&G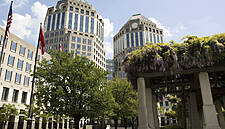 David Taylor, a company man at Procter & Gamble Co. who spent decades working his way up the corporate ladder, is now confronting his biggest challenge: whether the business's slow-and-steady culture has doomed it to fail.
P&G, a consumer-products empire that includes Crest, Gillette and Tide, is in the cross hairs of activist investor Nelson Peltz, whose firm Trian Fund Management is lobbying for a board seat. Though Peltz isn't calling for a breakup of the company -- or suggesting that Taylor be ousted -- he has criticized P&G's unwieldy number of brands and its "suffocating bureaucracy."
Taylor, who became chief executive officer in 2015, is under mounting pressure to prove he can shake up P&G's business despite spending a career ensconced in it. Though the company unloaded more than 40 beauty brands in a $12.5 billion deal with Coty Inc. last year, it still has a sprawling array of products and divisions.
"The company is way too complex," said Ali Dibadj, an analyst with Sanford C. Bernstein & Co. "The complexity isn't allowing the company to benefit from scale."
In other words, its longtime strengths -- a dominance in household items, coupled with the world's biggest advertising budget -- aren't paying off the way they used to.
Fewer Brands
P&G faces the criticism despite herculean efforts to shrink down its brand portfolio. Taylor's predecessor, A.G. Lafley, forged agreements to unload about 100 brands, including the massive deal to sell beauty products to Coty. That left P&G with about 65 brands across 10 categories.
But the remaining businesses still don't have an easy road ahead. P&G, long the world's largest seller of consumer products, is under attack from upstart brands with lower prices or more cachet. Retailers also have become more demanding of suppliers, making it harder for P&G to command shelf space and in-store marketing.
The environment has taken a toll on P&G's former cash cows, such as Gillette razors. Taylor, 59, has had to slash prices on the famously high-margin products to stay competitive. Shaky economies overseas have reduced demand for premium products, and currency fluctuations have provided another headwind.
The challenges have hindered Taylor's attempts to reignite growth. Net sales declined 1 percent to $15.6 billion in the most recently reported quarter, missing the $15.7 billion projected by analysts.
Shares of Cincinnati-based P&G have gained less than 2 percent in the past year, trailing the S&P 500's 14 percent gain.
When Taylor took the helm, the idea was to build up P&G from a smaller base. But the question now is whether the cuts were deep enough. The company should further tighten its belt and simplify the organization, Dibadj said.
"It's a very slow-moving organization," he said.
Taylor is a lifer at the company. After graduating from Duke University in 1980 with a degree in electrical engineering, he worked as a production manager at a P&G plant in North Carolina. He spent more than a decade in operations before shifting gears and becoming an entry-level assistant brand manager in 1992 -- a risk that he felt would help him ascend the management ranks.
Taylor's career spanned jobs in Europe and China, along with products ranging from diapers to hair care. As CEO, though, he's mostly "continuing the playbook laid out for him" by his predecessor, Dibadj said.
The idea is to focus on P&G's best brands and be smarter about identifying growth opportunities.
In response to Peltz's pressure, the company said it was pursuing a strategy to "achieve balanced, sustainable long-term growth and value creation."
In addition to streamlining its brands in recent years, P&G has "established a new standard of excellence for product performance, packaging and commercial execution," the company said in a statement Monday.
No New Ideas?
"While the board is always willing to consider new ideas that may help drive profitable growth and enhance shareholder value, the board notes that Trian has not provided any new or actionable ideas," P&G said.
Taylor is executing his strategy across the backdrop of retail upheaval. Contending with a threat from Amazon.com Inc., brick-and-mortar chains are taking a tougher line with suppliers and seeking lower prices.
E-commerce will allow companies like P&G to sell more products directly to consumers, but that's still a nascent market.
If the plan to spruce up P&G's remaining brands doesn't work, a more dramatic breakup of the company could be in the offing, Dibadj said. Peltz, head of Trian, has previously called for such a strategy at PepsiCo Inc., even if he isn't yet recommending that at P&G.
"Peltz hasn't shied away from pushing for a breakup in the past," Dibadj said. "So his stance could certainly change."
News by Bloomberg, edited by ESM. Click subscribe to sign up to ESM: The European Supermarket Magazine.