Philip Morris Sees $1.2 Billion Boost From Cigarette Alternative
Published on Sep 29 2016 3:19 PM in A-Brands tagged: Trending Posts / Tobacco / Philip Morris / Vaping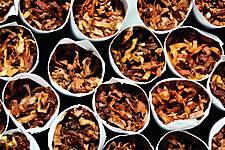 Philip Morris International Inc. said it's boosting investment in cigarette alternatives to expand sales to as many as 35 countries next year, aiming to lead the tobacco industry in the development of reduced-risk products that it says will eventually replace traditional smokes.
The Marlboro maker has "increasing confidence" that it will reach the upper end of its forecast for that business to add $700 million to $1.2 billion to earnings by 2020, Chief Executive Officer Andre Calantzopoulos said at an investor presentation in Lausanne, Switzerland Thursday. It plans to spend an additional $100 million this year on so-called next-generation products, taking the total to $1.2 billion.
Philip Morris is throwing more money behind its iQOS heat-not-burn tobacco device to outdistance its rivals, British American Tobacco Plc and Japan Tobacco Inc. Philip Morris expects to end this year with the product on store shelves in 20 markets. With $1.5 billion earmarked for development of reduced-risk products next year, the tobacco maker is betting that smokers will prefer heat-not-burn to e-cigarettes because it feels more like smoking.
"We are more confident than ever that these products have the potential to fundamentally transform our business," Calantzopoulos said.
'Early Days'
The iQOS is a rechargeable electronic device that heats tubes of tobacco called HeatSticks, which resemble a cigarette cut in half. Philip Morris said it will produce more than 32 billion HeatSticks next year, up from 7 billion this year, and could manufacture 50 billion by 2018. HeatSticks have advantages over cigarettes as they're new and some countries tax them at a lower rate, the CEO said. The cost to produce them is in line with that of conventional cigarettes, and the next-generation business should approach break-even in 2017.
More than 1 million smokers have converted to iQOS in test markets across Japan and Italy, according to the company. "We are still in very, very early days," the Philip Morris CEO said.
As smoking rates decline in developed countries, the race for a hit product to replace cigarettes is putting pressure on the tobacco industry. Philip Morris estimates global cigarette consumption in the industry is dropping 2 percent to 2.5 percent each year.
'Not Clear'
"It's not clear which product or which category will ultimately win," Rupert Wilson, an industry analyst who advises tobacco investors, said Wednesday at a nicotine conference in Brussels. "Someone will eventually bring a product out that's a quantum leap. Who's going to do it? I don't know."
The industry's slowdown could prompt consolidation, with Britain's Imperial Brands Plc being the most likely target, analysts said at the conference. Imperial is one of the few cigarette companies that has said the heat-not-burn market doesn't look attractive, and is focusing on e-cigarettes instead. It's also the smallest among the four tobacco companies that operate on a global basis, although it has expanded in the U.S. by acquiring the Winston and Kool brands. Imperial said Thursday that it's on track to meet full-year profit targets.
"Imperial have the weakest set of cards, so you'd have to say they are the most likely" to be acquired, Jonathan Fell of London-based investor Ash Park Capital said at the conference.
News by Bloomberg, edited by ESM. To subscribe to ESM: The European Supermarket Magazine, click here.