Visitor Registration Opens For Eco Life Scandinavia And Nordic Organic Food Fair 2019
Published on Jul 4 2019 4:00 PM in A-Brands tagged: Sweden / Sustainability / MalmöMässan / Eco Life Scandinavia 2019 / Nordic Organic Food Fair 2019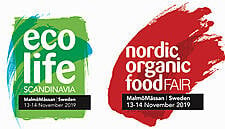 Visitor registration is now open for Eco Life Scandinavia and the Nordic Organic Food Fair, which marks the countdown to Scandinavia's favourite sustainable-business event.
This year's edition will be held at MalmöMässan, in Sweden, on 13 and 14 November 2019.
Thousands of Nordic retailers and buyers can start to plan their visit to the highly anticipated rebranded trade shows dedicated to the thriving organic, healthy, environmentally friendly, and sustainable lifestyle sectors.
Brilliant, diverse, impressive, phenomenal and fun are just some of the words used to describe the previous edition, which welcomed 4,488 participants from 66 countries.
The 2018 edition included senior retailers and buyers from Holland & Barrett, Life, Helsekost, Matas, Dansk Supermarket, IKEA, Coop Trading, Netto, Lidl, H&M, Magasin du Nord, Midsona, and Total Produce.
This year's compelling line-up features more than 500 exhibitors, new international pavilions, fresh content (in three theatres), and new-feature areas, including the Sustainability in Retail Forum, making the 2019 show an unmissable event for the industry.
What's In Store?
The news of ICA Sverige planning to launch over 50 new vegan products this year alone reflects the growth potential of this segment.
The show's new Vegan Zone will include innovations from a range of pioneering vegan companies, like Follow Your Heart, Upton's Naturals, and Benevo Vegan Pet Food, to suit all areas of this rapidly growing lifestyle choice.
The marketing manager at Upton's Naturals, USA, Natalie Slater, said, "The plant-based market is exploding in Europe, with Scandinavian countries leading the way.
"One in every five Swedes under the age of 30 identifies as either vegetarian or vegan, so we are thrilled to be highlighting our line of jackfruit, a wholefood-based meat alternative, within the new Vegan Zone of Eco Life Scandinavia," Slater added.
The number of free-from products in Sweden has increased by 20% since 2017, and the show will also feature some of the best products in the category, from Trouw, Delicious & Sons, Primrose Kitchen, Landgarten, Topas, and more.
The Eco Life Scandinavia area will showcase the best brands in the eco-living category, including innovations from Hevea, Manuka Doctor, Bio4Life, Marcel's Green Soap, Teapigs, the Cheeky Panda, the Protein Kitchen, and Greenscents.
The founder of Greenscents, Christina Hawkes, said, "Greenscents is delighted to be exhibiting at Eco Life Scandinavia – the most prestigious Nordic event for organic and natural products.
"Greenscents has many customers in the region, and we are excited to present our certified organic, cruelty-free, vegan household and laundry range to a wider audience."
"Greenscents is the most ethical brand of cleaning and laundry products available in the UK. Our stylish packaging is made from sugar cane waste and is 'I'm Green' certified," she added.
In Natural Health & Beauty Scandinavia, visitors can see and sample a wide selection of green, ethical, sustainable, cruelty-free, natural and organic cosmetics, skincare and haircare products, clean-label natural health VMS, sports nutrition items, herbal medicines, and more.
Faith in Nature, Flow Cosmetics, Skin Chemist, Annabelle Minerals, Osimagneisum, Luonkos Finland, WISE Organic Skin Lab and Sweden Eco have already confirmed their participation.
Organic Choices From Around The World
Co-located with Eco Life Scandinavia, the Nordic Organic Food Fair will include an unprecedented number of organic suppliers, showcasing the best certified organic ingredients, fresh produce, and pre-packed products from around the world.
Exhibitors that have already confirmed their attendance include Nøtteblanderen AS, Okami Bio, Rakawise, SDA Food, Goodio, Natessen, IDOrganics, Haco Ag, Global Organics, and English Tea Shop.
Buyers can also get a taste of what the world has to offer by visiting the show's range of regional and international pavilions – including brands from Try Swedish, Food from Finland, Organic Denmark, South Korea, Estonia, and Italy – with many more yet to be confirmed.
In the new Naked Drinks Scandinavia area, visitors can sample a sumptuous range of organic, natural, biodynamic, ethical, and vegan wines, beers, spirits, and non-alcoholic alternatives from Greece, Spain, Sweden, Austria, and Italy.
One of the show's biggest selling points is its comprehensive array of new products, including future best-sellers and hundreds of new launches.
The show's 'Innovation from Scandinavia' zone will display the latest brands to hit the Scandinavian market.  True Gum, Spices Chef, Pods of Beans, and Olivias Tryllesalve have already confirmed their participation.
The show's Innovation Zone is also the place to discover new products launched in the past 12 months.
Here visitors can also vote for the winning product of the show's prestigious Natural & Organic Awards Scandinavia 2019.
Sustainability In Retail Forum
This year's event will also see the launch of the Sustainability in Retail Forum.
Taking place on the first day of the show, this conference is designed to help senior executives within leading retailers from across the Nordic region to address the ever-evolving challenges around sustainability.
This crucial forum will bring together thought leaders and industry experts who'll provide insights and real-life case studies on a variety of sustainability issues within the retail environment.
For further details, please contact Dominic Roberjot on [email protected]
Cecilia Hornö Eriksen, quality development at Coop, Sweden, commented, "Visiting Eco Life Scandinavia and the Nordic Organic Food Fair is very inspiring. I knew already that there's a lot of organic and certified products out there, but after visiting the fair, I feel strongly that there are no limits to what can be produced.
"It's possible to contribute to a better planet and do really good business, at the same time, which is good for [humans], animals, and the environment," Eriksen added.
Registration Details
For more information and to register for a free trade ticket, please visit www.ecolifeshow.com or www.nordicorganicfoodfair.com and use priority code PR123.
© 2019 European Supermarket Magazine – your source for the latest retail news. Sponsored content. Click subscribe to sign up to ESM: European Supermarket Magazine.