Viva Tapas: Tapas As A Way Of Life
Published on Jun 21 2018 2:30 PM in A-Brands tagged: Trending Posts / Spain / Viva Tapas / Benetan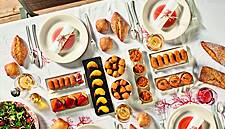 'Viva Tapas' is a brand from Urkabe-Benetan SA, a ready-meal company located in the Basque Country in the north of Spain, near the border with France. This region has the highest number of Michelin Star restaurants in the world, a place where food is a way of art.
Here, tapas are not only a way of eating, but a way of life. Tapas can be enjoyed with friends, family or colleagues any time: on the weekend or after work, at lunchtime, in the afternoon, or in the evening, with wine, a beer or water. No matter how you enjoy them, tapas are always fun and tasty.
The Origin Of Tapas
Legend has it that King Alfonso XIII of Spain was on an official visit to the province of Cádiz, and when he was going past the Ventorrillo del Chato (an inn that still exists), he decided to stop and rest for a while.
The King asked for a glass of sherry but just at that moment a gust of wind blew in and to avoid his glass being filled with sand from the beach, the waiter had the fortunate idea of placing a slice of ham on the royal glass. The King asked him why he had done this and the waiter, apologizing, told him that he had put on a lid or 'tapa' to prevent the wine being spoiled by the sand.
The King liked the idea, ate the tapa, drank the wine and asked for another serving. On seeing this, all members of the court who were with him asked for the same.
The Evolution Of Tapas
After that the concept of tapas has evolved in different ways, sometimes becoming haute cuisine on bread in miniature.
Nowadays, Viva Tapas develops its recipes in the kitchen of our Basque chef Gorka Pérez, who is always testing new ingredients, flavours, and ways of cooking. He is constantly adapting traditional recipes to new styles and flavours.
Viva Tapas uses quality raw materials, olive oil, fresh milk from local farms, and MSC-certified fish. The cuisine is based on the Mediterranean diet.
Viva Tapas has a selection of typical Spanish tapas, combining grandmother´s recipes, artisanal cooking, and the the innovative character of Basque cuisine.
Viva Tapas wants to bring shoppers genuine Spanish flavour. It offers different formats for different occasions: tapas which can be fried, cooked in the oven, at home, or in the pub.
Enjoy World Tapas Day! For more information about Viva Tapas, visit the website.
© 2018 European Supermarket Magazine – your source for the latest retail news. Sponsored content. Click subscribe to sign up to ESM: European Supermarket Magazine.