Bread & Butter - The UK's First Food And Drink Founders' Festival
Published on Aug 21 2016 4:01 PM in A-Brands tagged: start-ups / Kitchen Table Projects / Bread & Butter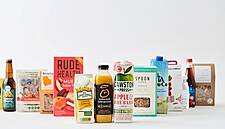 Bread & Butter is the UK's first food and drink founders' festival for start-ups to scale-ups looking to grow their businesses.
The two-day festival will feature hands-on interactive content, workshops, six unique zones and a schedule of inspiring must-see speakers who have all been there, seen it and done it.
They include Tom Newton from Graze, Mark Palmer from Pret A Manger, Pippa Murray from Pip&Nut, Will Bowler from Popchips, Tamara Arbib from Rebel Kitchen, and Patrick Drake from HelloFresh.
Organisers say that all that is needed to join the festival is a great idea or a food and drink business that needs to move forward.
The event will introduce attendees to a community of like-minded others - those at the idea stage, those just about to launch - as well as those looking to scale up to the next level.
Bread & Butter was founded by the entrepreneurs behind Kitchen Table Projects and the foodies support group, FoodHub.
There will be six zones as follows:
Keynote Zone - Industry experts will offer their experiences that are directly relevant to the challenges of the next generation of food companies. There will be a Producer's Table where products can be displayed by delegates.
Panel Zone - Industry panels of experts and entrepreneurs will tackle the prevalent business issues that face emerging and growing food brands. Visitors will hear their tales of triumph and disaster, and the many lessons that have been learned along the way
Workshop Zone - Intimate workshops covering everything to from the food business fundamentals to innovative strategies for business growth. Run by industry experts these workshops will generate tangible, actionable outcomes.
Creative Zone - There will be a series of activities taking place during the festival designed to inspire and educate. Topics include creative, branding, positioning, naming, rebranding and marketing.
Advice Bar Zone - Experts will be on hand to solve delegate's business dilemmas and questions. The experts in the advice bar will include journalists, lawyers, food bloggers, accountants, PRs, insurers and growth experts.
Exhibitor Zone - This zone will feature 24 exhibitors who provide the vital services needed to grow food and drink brands. This zone also incorporates the 'Tasting Table' where delegates can present their products to three experts.
Kitchen Table Projects founder Tara Mei recently organised a series of foodie events partnering with British retailer M&S.
Over the past 12 months she has worked with more than 500 emerging food brands through business bootcamps, pop-up shops, and speed mentoring events.
Jason Gibb is a former TV producer who founded, and then sold, his gourmet olive oil business Nudo, which was on sale in Harrods, John Lewis and Selfridges.
Speaking on the event, Tara Mei said: "Bread & Butter is aimed at food and drink entrepreneurs who want to bring their vision to life.
"This is an exciting new show which will be a gathering of an incredible community of passionate producers - from start-ups at the idea stage, right through to serial entrepreneurs trading globally. They are all like-minded people who want to, or already create, amazing food and drink products."
Jason Gibb added: "Being a food entrepreneur myself, I can tell you that it is a lonely road, so the aim of Bread & Butter is to build a community of friendly, passionate producers who support each other through the highs and lows.
"We want to hand entrepreneurs the tools and opportunities to have a go at pursuing their passions and turning ideas in to reality, by giving them access to the expertise they need to make their businesses last."
Bread & Butter takes place at the Institute of Directors, 116 Pall Mall, London, on November 12 and 13.
© 2016 European Supermarket Magazine – your source for the latest retail news. To subscribe to ESM: The European Supermarket Magazine, click here.