Brexit 'Talks About Talks' Get Under Way In Brussels As EU Waits
Published on Jun 13 2017 8:12 AM in Retail tagged: Featured Post / UK / Brexit / Theresa May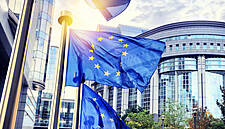 U.K. officials met with representatives from the European Commission in Brussels in an effort to agree on how to structure Brexit negotiations amid uncertainty in London over Prime Minister Theresa May's plans for a post-election government.
In a sign that both sides are anxious to begin negotiations as soon as possible, Oliver Robbins, the head of the U.K.'s Department for Exiting the European Union, headed to Belgium on Monday to thrash out with EU chief Brexit negotiator Michel Barnier the organization and start date of the talks. EU officials say they are still unclear about what the U.K. wants out of Brexit and are frustrated about delays in getting around the negotiating table.
After May called a snap election, the EU slated negotiations to begin on June 20. May's dismal showing in the June 8 poll has thrown those plans into chaos, with members of her own party signaling the Brexit position may now change.
"With regard to technical talks, we are quite confident that they can start soon, even this week, and our understanding is that there is a shared willingness on the British side to move ahead with these technical talks," European Commission spokesman Alexander Winterstein told reporters in Brussels on Monday.
Winterstein declined to set a precise date for moving from "talks about talks" to substantial negotiations "as this doesn't depend entirely" on the commission, the EU executive. "We are fully ready; we are fully prepared," he said.
Future Relationship
Barnier wants the negotiations to begin with discussions over the terms of Britain's "divorce" from the bloc, before moving onto looking at the two sides' future relationship. The U.K. wants those two aspects to be discussed together.
The EU has been forced into a holding pattern ever since British voters opted to leave the 28-nation bloc in a referendum last June. The government waited nine months after that before officially activating the two-year withdrawal process and May's surprise call for snap elections delayed the start of talks by around another four weeks. Uncertainty over the weakened government's Brexit plans now looks set to slow the talks further.
While waiting for the U.K., the EU has drawn up detailed position papers on its negotiating position in areas including the safeguarding of citizens' rights and the bill it wants Britain to stump up based on previous financial commitments.
As well as the exact start date, the two sides have to agree on the format of talks. The EU favors holding negotiations in four-week cycles, with one week in each round devoted to discussions between the two sides in a European Commission building in Brussels.
News by Bloomberg, edited by ESM. Click subscribe to sign up to ESM: The European Supermarket Magazine.