The British Clothing Slump Makes M&S's Silence Deafening: Gadfly
Published on Sep 30 2016 2:10 PM in Features tagged: Trending Posts / UK / M&S / Clothing / Sainsbury / Marks & Spencer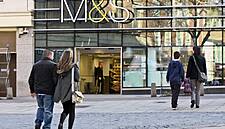 Been shopping for clothes lately? No? Neither has anyone else.
That's why a string of U.K. retailers, including Next, Sainsbury, John Lewis and even Primark have all reported a recent slowdown in sales.
But Marks & Spencer, Britain's biggest clothing retailer by value, won't publish the results of the current quarter, which ends today, until November. That leaves investors in an unhappy waiting game -- a combination of unhelpful trends and the mistakes of the past mean the the current cocktail of clothing problems will likely land a nasty blow.
A lack of compelling new fashion trends, consumers preferring to spend on experiences rather than clothes, and unseasonable weather are hitting retailers across the board. And though they say publicly that Brexit is not having an impact on spending, the slowdown in September has been so steep that it can't all just be down to the weather.
Conditions are almost as bad for clothing and footwear as if the U.K. were in recession, Next Chief Executive Simon Wolfson said earlier this month.
For new M&S Chief Executive Steve Rowe, that could not have come at a worst time. Since arriving in April he's been working to reverse years of falling clothing and home furnishing sales.
The problem for Rowe is that the chain's ubiquity across the country, in high streets and shopping malls, make it particularly vulnerable to the headwinds rivals have outlined over the past few weeks.
If anything, things could be even trickier for M&S. It has struggled to find the right styles to appeal to its customers. In fact, same store clothing and home furnishings sales risen only once in the past five years.
In April, Rowe said that he would target its core shopper, "Mrs. M&S," with cheaper styles, and with just a nod to fashion instead of incorporating the most cutting-edge catwalk trends. Trouble is, Mrs. M&S might not be in the mood to shop right now if she's feeling worried about the impact of Brexit and more interested in enjoying the late-summer sun.
M&S's results may be flattered this time around by the fact that the reporting period includes its main summer sale, which tends to boost volumes. The same period a year earlier would only have included smaller sale events, and so volumes wouldn't have had as much of a lift. In addition, it may have benefited from warm weather in July and that could have driven demand for swimsuits and strappy sandals. But that is unlikely to have made up for the unseasonably warm conditions in September -- traditionally the main time for stocking up on heavier, and more expensive, clothing.
Rowe won't publish second-quarter figures until early November. So for the time being, investors are left guessing.
M&S shares are down about 7 percent since the start of September. Shares of Next, which said two weeks ago that the current quarter will be its toughest this year, are down almost 14 percent in the same period. So the bad news for Rowe might not be fully priced in.
He could announce measures to ease the sting: reducing international operations, as well as U.K. store closures. One bright spot is that M&S's pension plan is in a much better shape than many rivals.
While these might help profits, they won't do anything to tackle the underlying problem that M&S faces: people aren't buying its clothes.
When it comes to that, M&S's silence is deafening.
This column does not necessarily reflect the opinion of Bloomberg LP and its owners.
News by Bloomberg, edited by ESM. To subscribe to ESM: The European Supermarket Magazine, click here.