With A 667% Price Mark-Up, Fancy Eggs Find Fewer Buyers In US
Published on Oct 15 2017 9:00 AM in Fresh Produce tagged: Trending Posts / Eggs / Cage Free Eggs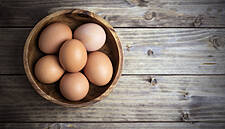 The great American egg glut keeps claiming victims, among them millions of hens that won't be moving anytime soon into lodgings spacious enough for what they lay to be called "cage free."
This was supposed to be a golden-goose designation, after the likes of McDonald's and Walmart pledged to switch to eggs from birds able to actually spread their wings. Farmers stepped up to provide cage-free products, but buyers haven't materialised in the anticipated droves, or anything close.
"It's been bad," said Marcus Rust, chief executive officer of Seymour, Indiana-based Rose Acre Farms Inc., the second-largest US egg producer. It spent $250 million over four years to upgrade conditions; today about 20% of its hens are cage free. And now, Rust said, "we are shutting our construction program down."
Period Of Losses
The whole industry is slowly climbing out of a period of losses, which sets up a sort of chicken-and-egg predicament: many farmers are too strapped at the moment to build facilities they may need in a few years, when - some skeptics say if - big buyers make good on their cage-free promises.
Few "are in a hurry to make the transition," said Jesse Laflamme, CEO of Pete and Gerry's Organics in Monroe, New Hampshire. Farmers aren't sure which way to turn or how fast. "It's going to be turbulent."
The cage-free revolution looked big not long ago. Eggs from hens that aren't so cooped up taste better by some accounts. They're also a salve for shoppers interested in more-humane treatment of the animals that stock supermarkets.
A cage-free bird isn't exactly allowed to run wild in the open but does get more room. At Rose Acre, she has 144 square inches of space, while a squeezed sister in a traditional setting is confined to 67. Consumer sentiment seemed clear.
Price Draw
Then came the glut, and now the regular variety is too darn cheap for many to resist. A dozen cage-free large browns cost as much as $2.99 in the Midwest last week, for example, while a carton of Grade AA white conventionals went for as little as 39 cents, according to the US Department of Agriculture.
That "higher-price gap," as Cal-Maine Foods CEO Dolph Baker called it, has cut into specialty-egg demand. The company, the largest US egg producer, said earlier this month it is adjusting its cage-free output accordingly.
The egg oversupply built up after the 2015 avian-flu outbreak killed tens of millions of chickens, sent prices soaring and spurred aggressive restocking. At the same time, some producers started expanding hens' living quarters.
A California law that year required eggs sold in the state to be laid by chickens whose confinement allows them to lie down, stand up, extend their limbs and turn around. McDonald's and Walmart said they'd aim to make the cage-free shift by 2025. Others in the business of acquiring wholesale eggs set similar goals.
Cage-Free Progress
Some pledgers, such as food-service providers Sodexo and Aramark, are well along the way to completely converting to cage-free for eggs in shells in the US, according to the advocacy group Compassion in World Farming. It said in a recent report that others, including Marriott International and Walt Disney Co., haven't made public how they're progressing.
McDonald's, which buys around 2 billion eggs every year in the US, is on track to meet its 2025 mark, the company said. Walmart declined to comment, and Marriott and Walt Disney didn't immediately respond to requests for comment.
The cage-free population may continue topping demand through at least 2020, according to government and industry estimates. By 2026, the US would need some 223 million cage-free hens to meet all the commitments, up from less than 50 million now. The cost to get there could be more than $4 billion, said Sam Kaufman, director of pre-construction services for Summit Livestock Facilities, which built some of Rose Acre's bigger barns.
The producer, which started turning a profit in September after 15 months in the red, is finishing work on these types of barns in Indiana and Arizona and mothballing another Arizona project, Rust, the CEO, said. Then it'll wait, for as long as it takes. "We are going to be in a holding mode until retail pays a warranted price."
News by Bloomberg, edited by ESM. Click subscribe to sign up to ESM: The European Supermarket Magazine.