Campbell Soup Discovers Health Food Is No Picnic: Gadfly
Published on Sep 3 2016 7:53 AM in Features tagged: Trending Posts / Healthy Eating / FMCG / Campbell Soup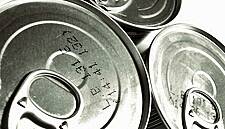 It turns out trying to remake yourself into a "healthy" snack-food company is harder than it looks.
Shares in Campbell Soup dropped 6 percent on Thursday after the company reported quarterly earnings that missed expectations and warned next year's results would disappoint, too.
It's well-known by now that sales of Campbell's salty soups have slowed. But what's unnerving is that its so-called "fresh business" -- its supposed saving grace -- is shaky, too.
A big culprit was Bolthouse Farms -- a producer of carrots, juices and salad dressings, for which Campbell paid $1.55 billion in 2012 in hopes of bulking up its healthy-foods business. Campbell took a $141 million write-down in the latest quarter on this business, which was hurt by product recalls for spoiled protein drinks, supply chain disruptions, and slowing carrot sales.
Yes, in the best excuse for poor earnings since "unseasonably mild spring weather," Campbell said people weren't buying enough carrots. That's mainly because a premature carrot harvest to meet demand yielded carrots that were smaller than customers like.
The results are a warning for a packaged-food industry struggling to meet growing consumer demand for healthier fare. As Big Food pays up to buy companies that promise outsize growth, some find the deals don't taste as good as they look. Or as Hedgeye analyst Howard Penney simply put it, "things are not good when your growth business can't grow and the rest of your business is soup."
My colleague Tara Lachapelle points out the food industry has spent more than $300 billion since the start of 2014 on M&A, much of it aimed at healthy-food companies. This deal frenzy is inflating the stock prices of food and beverage companies, whose sales and profits may not justify the premiums. Before Thursday, Campbell's stock was up 30 percent in the past year, compared to 13 percent for the S&P 500.
Campbell has made a number of acquisitions of healthy food and snack companies since 2011, helping bring is fresh-food division up to $1 billion in annual revenue, or 13 percent of its total sales. But in the fourth quarter, sales of items such as juices and dressings fell by 12 percent, excluding the sales added by Campbell's acquisition of the Garden Fresh Gourmet salsa company. Operating earnings for the fresh-food unit dropped 62 percent in the quarter from the year before.
Part of the problem is that Campbell was not set up to be a healthy-foods business. It lacks a lot of the history and infrastructure to adequately deal with farms, weather conditions, and other problems that don't matter as much when you're canning soup or bagging Goldfish crackers.
Chipotle's meat shortages and other supply-chain issues are another example of the risks of trying to bring natural food to the masses: It's harder to source large amounts of such food than the processed kind. (It's hard to imagine a shortage of an artificial ingredient like, say, Yellow #5.) Plus, these products have shorter shelf lives.
Campbell said it was working to fix its fresh-food problems, adding new executives, more oversight of its supply chain, and a new operating structure. But this is a reminder to other food giants that simply buying up companies that make healthier fare won't magically transform them into nimble purveyors of fresh and healthy foods.
This column does not necessarily reflect the opinion of Bloomberg LP and its owners.
News by Bloomberg, edited by ESM. To subscribe to ESM: The European Supermarket Magazine, click here.