When Corn Doesn't Plump Up, Funds Left With Wrong-Way Bets
Published on Aug 23 2016 7:30 AM in Supply Chain tagged: Trending Posts / Supply Chain / Corn / USA / Farming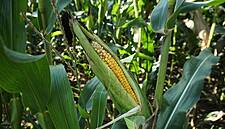 Investors betting on a record US corn crop are about to get a closer look at yields, and they may not like what they see.
Hot weather across the US Corn Belt in June and July came during critical periods of ear development. That's bad news for money managers who have been increasing their bets on declines for prices. Ear weights may not live up to expectations, tightening the supply outlook. Last week, futures in Chicago capped the biggest gain in two months.
To understand why prices are rallying, look no further than Tony Heiden, an agronomist for 660 Agronomic Analysis who farms 600 acres near Winona, Minnesota. Yield estimates for his clients have shrunk because of the summer heat. Ears lost as much as two inches (5.1 centimetres) of grain at the top of the cob, as the plants ran out of energy to fill kernels, he said. From the road, the fields look the same, but now that he's gotten in closer to examine plants, the damage is clear.
It is the disparity between what you can see from afar versus up close that helps to explain why investors have been caught short. On 12 August, the US Department of Agriculture predicted a record US corn crop and the biggest yields ever, with a national average of 175.1 bushels an acre. In turn, money managers loaded up on bets that prices would slump, expanding their net-short position by 18% to 161,479 futures and options as of 16 August, US government data released Friday shows.
A Closer Look
The USDA estimates were made based on farmer surveys, field inspections and satellite images. Now that growers are taking a closer look at their plants, more analysts are growing sceptical that record-high yields will be achieved. That is especially true because the ears have not been weighed yet. The government's statistical agency estimated a record ear weight in its 12-August forecast. Normally, the USDA uses a five-year average weight in determining its yield estimate before physical measurements are taken in September.
"Good luck reaching record ear weights this year," Heiden said. "Farmers are surprised how much yield estimates fell in two weeks," he said, adding that his prediction for his crop has fallen to 210 bushels an acre from as much as 240 a few weeks ago, trailing the three-year average of 220.
December corn futures jumped 3.2% to $3.4375 a bushel last week in Chicago, the biggest gain for the contract since 17 June. The contract traded 0.7% lower, at $3.4125, at 10.34 a.m. local time on Monday.
Investors will get a better sense of yield potential this week. The 24th annual Pro Farmer Midwest Crop Tour begins on Monday. Participants will travel through about 2,800 fields from Ohio to South Dakota to check on corn and soybean yields and plant health as the crops head for harvest.
Heat Damage
Even though farmer-reported yields are a big contributor to how the USDA makes its estimates, it is still early enough in the season that there is room for error. For example, in 2010, producers were slow to realise the damage that heat had caused, said Lance Honig, the branch chief for crops at the USDA's National Agricultural Statistics Service in Washington. That meant that the agency's August estimate for production was 7.6% higher than the actual harvest.
This summer, corn plants suffered through high daytime temperatures and warm nights. In July, overnight lows in the seven-state Midwest region were as much as four degrees Fahrenheit above normal, according to T-Storm Weather LLC in Chicago.
Crop Appearance
"In-season stress to the crop from heat and dryness has not fully manifested in the appearance of the crop," said Jude Kastens, a satellite-yield researcher at Kansas University and lead crop forecaster for Planalytics, Inc. "Inside the husks is where the stress will manifest" in reduced kernels, he said.
Crop-tour participants should get a better sense of what's happening inside the husks as they take measurements this week. After drought in Brazil and flooding in Argentina cut South American output, there's increased interest in US production this year. The number of nations represented by tour scouts on the field surveys will be the most ever, tour data shows.
Bigger Acres
Even with smaller ear weights, US growers planted more this season, and that can help to make up for damage. Sowings increased from last year by 7% to 94.1 million acres, the third-highest planted acreage since 1944.
Although there was some extreme heat this summer, farmers were able to benefit from timely planting and ample rainfall throughout the growing season, along with minimal crop stress, said Darrel Good, an agricultural economist at University of Illinois in Champaign-Urbana. That can also help make up for kernels that didn't fatten.
"While we've had plenty of moisture, we've had above-average temperatures, which doesn't usually bring high ear weights," Good said. "As farmers get more information, and as the crop matures and the objective yield survey more accurately reflects what's there, we'll get closer to the actual" yield number, he said.
News by Bloomberg, edited by ESM. To subscribe to ESM: The European Supermarket Magazine, click here.