Corn Is Piling Up On Brazil Farms As Storage Space Runs Short
Published on Aug 4 2017 9:18 AM in Supply Chain tagged: Corn / Brazil / Farming / Mato Grosso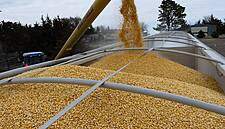 Massive piles of corn stored in the open air. That's the consequence of a huge corn crop in Brazil's largest producing state, Mato Grosso.
"We're seeing piles of corn stored in the open air because of a lack of storage capacity in the state," Endrigo Dalcin, the president of farmers group Aprosoja in Mato Grosso, said in a telephone interview.
While Brazil has become one of the world's most important crop producers, outdated infrastructure is placing some limits on its competitiveness. Unpaved, muddy roads have hampered grain transportation earlier this year, and storage squeezes are happening with more frequency after the nation's farmers rapidly expanded production over the past decade. In Mato Grosso, storage capacity is only half of what is recommended as a safe margin by the United Nations' Food & Agriculture Organization, according to Aprosoja.
Storing corn in the open air means the grain is vulnerable to rot because of moisture and humidity. It also makes the supplies more susceptible to rodents and other pests. Right now, dry weather is minimizing damage risk. But rains will probably return in December, which will raise concerns over crop quality, Dalcin said.
Leftover Soybeans
Farmers in the state are reaping 29.5 million metric tons of corn, up 55 percent from last season, according to a state agency. Local storage capacity is estimated at 33.5 million tons, Aprosoja figures that are based on Conab data show. Lack of room wouldn't be a problem if producers didn't still have soybeans in stockpiles from the recent harvest, which also produced a huge crop.
The open-air piles are most prominent in the state's northern areas, including the municipalities, Sorriso, Sinop and Campo Novo do Parecis, where corn output and the storage deficit is bigger, Dalcin said. Mato Grosso's grain harvest was 88 percent complete as of July 28, according to Imea, as the state's rural economy institute is known.
Blockades
Protesters of a recent fuel-tax hike have also set up blockades on the BR-163 roadway, a major route for grain transportation. The traffic disruption could worsen the storage problem if the pace of exports slows, Dalcin said.
"More than 5 million tons of corn must be taken out of Mato Grosso every month through December to avoid storage problems during the soybean harvest next year," he said.
Still, one bright spot in the storage squeeze is that many farmers have bought grain bags, Dalcin said. That allows them to store grain outside with more protection from the elements, helping to alleviate the concerns over crop quality.
News by Bloomberg, edited by ESM. Click subscribe to sign up to ESM: The European Supermarket Magazine.