Parlez-Vous Costco? US Retail Giant Brings Bulk Brie To France
Published on Nov 7 2017 12:20 PM in Features tagged: Featured Post / France / Costco / French retail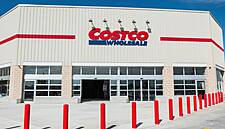 About a half-hour south of Paris, a uniquely American import has opened for business.
The store's aisles brim with beauty and bulk, side by side. One-kilogram wheels of Mont d'Or cheese sit near €4,699 Breitling watches. The Yanks demand that the locals fork over an annual fee of €36 just to walk in the door.
France, meet Costco Wholesale. In June, the world's largest warehouse-club chain opened in the suburb of Villebon-sur-Yvette, between Orly Airport and the École Polytechnique.
Having succeeded in spreading its treasure-hunt shopping experience across North America, Asia and the UK, Costco is infiltrating the global heart of refined taste.
The stakes are high for Costco. Its US customers are shopping less frequently as they get older, new locations are cannibalising existing ones, and the younger set is spending more online.
That's spooked investors – Costco's shares have barely budged this year, despite solid sales growth – and put more pressure on stores outside the US, which account for about 28% of Costco's $129 billion in revenue.
"They've done well in the US, but the competitive landscape there has changed dramatically," says Arun Daniel, a senior fund manager at J O Hambro Capital Management in Boston. "They cannot sustain that long term, so where can they show growth? Internationally."
Hey, Big Spenders
In a historical sense, France is a natural for Costco. The idea of putting a wide range of affordable stuff under one roof came from a Frenchman, Aristide Boucicaut.
He took over a modest Paris shop called Bon Marché in 1852 and expanded it from 300 square metres to 50,000, inventing the modern department store. In the 1960s, French retailer Carrefour pioneered the hypermarket, combining a Walmart-like selection of dry goods with groceries in suburban big-box stores.
The French are also among the biggest retail spenders per capita in Europe, according to researcher PlanetRetail RNG, and the nation is on track to see its strongest economic growth since 2011 under business-friendly President Emmanuel Macron. However, the French are notoriously focused on quality, rather than quantity, and prefer to patronise small neighbourhood merchants.
The success of fast-food giants like McDonald's and Subway in France debunks the stereotype of the snooty, exacting shopper. In fact, the French spend nearly half of their food and household-goods budgets at hypermarkets.
Crowded And Cut-Throat
The €500 billion French retail market is crowded and cut-throat. A half-dozen companies control most of it, and they've spent the past decade engaged in a brutal price war. German discounters Aldi and Lidl have elbowed in, too, luring penny-pinchers.
The price war has taken a toll. In August, Carrefour, France's biggest retailer, suffered the biggest-ever drop in shares after saying that business wouldn't improve in the second half of the year.
Casino, another big player, reported the first revenue decline in two years at its French hypermarkets, as more spending goes online.
"The climate has been punishing," said Ray Gaul, an analyst at Kantar Retail in London. "Each operator fights the others to gain fractions of market share."
The locals aren't always welcoming. British retailer Tesco pulled out of France in the late 1990s, after just five years in the country. Marks & Spencer just closed its flagship store on the Champs-Élysées.
Costco's first attempt to open in France, in a suburb east of Paris, got local approval, but was rejected by national regulators after rivals appealed.
Brutal Market
"I do find it surprising that Costco went into this market," said Andrew Gwynn, an analyst at Exane BNP Paribas in London. "It's such a brutal market, and it's a big ask to pitch their unique proposition."
Costco is famous for keeping expenses low and refusing to take more than a 15% markup on its limited assortment of items, betting that manufacturers will accept the lower price in return for higher volumes. A recent comparison of 110 items by French retail analyst Olivier Dauvers found Costco's prices to be 21% cheaper than a nearby Carrefour.
It's not just about shopping on the cheap. Costco will also offer high-end products, like local Charolais beef, said Gary Swindells, a Quebec native who runs its French operation.
The warehouse includes the all-American brands you'd expect from Costco: Coke, Levi's, Reese's, Jack Daniel's. Swindells said that the French have also flocked to items that he was told would never sell, such as muffins, cookies and pancake mix.
Suddenly, It's Luxury
Being in France provides an additional benefit, as Costco can source French goods – Pasquier macarons, Fleury Michon charcuterie – and ship them to warehouses around the world.
"It can be an everyday product in France, but you take it abroad, and suddenly, it's luxury," said Tim Campbell of Kantar Retail.
On a recent Monday afternoon, twenty-something brothers Alain and Matthieu Sita wheeled their oversized cart through the 148,000-square-foot warehouse. They'd driven an hour to stock up on pizzas, meat, paper products and shredded Emmental cheese.
One of the obstacles confronting French shoppers is the size of much of Costco's merchandise. It's tough to stuff pallets of toilet paper into a Renault Clio, the country's favourite car, but Alain Sita has one problem licked. "I have an American fridge," he said.
Other shoppers might take longer to assimilate, like Elodie Mercier, who ducked in to grab two rotisserie chickens and a pizza for the family dinner that night.
"I'm just looking around," she says, not tempted by the cases of 2006 Dom Pérignon (€115.99 a bottle) that commanded the centre of the beverage section.
Memberships started small at the first French Costco – 10,000, below the 30,000 that Costco typically gets. There's no e-commerce component, which could be a drawback, given the popularity of kerbside pickup of online orders, but the store's membership now totals 49,000 and is growing by about 900 a week, according to Swindells.
Swindells said that he'll start the application process for a second site by the end of the year, envisioning about a dozen Costcos scattered around France over time.
"It will not be easy," said Kantar's Gaul, "but once they open in a country, they never leave."
News by Bloomberg, edited by ESM. Click subscribe to sign up to ESM: The European Supermarket Magazine.