Diet Drinks May Lead To Dementia And Strokes, Study Suggests
Published on Apr 21 2017 11:40 AM in Retail tagged: Featured Post / health / Carbonated Soft Drinks / science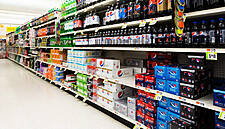 Drinking one or more artificially sweetened drinks a day may increase the risk of stroke or developing dementia, according to new research published in Stroke, the scientific journal of the American Heart Association.
The study found that people who drink at least one artificially sweetened drink per day were 2.89 times more likely to be diagnosed with dementia and 2.96 times more likely to have an ischemic stroke, when compared with people who consume less than one per week.
"Just because a beverage is advertised as being healthy because it doesn't have any sugar doesn't mean that it is healthy," said Matthew Pase, Ph.D.,  a fellow in the department of neurology at Boston University School of Medicine and an investigator at the Framingham Heart Study, in conversation with American Heart Association News. "Artificial sweeteners may have effects in the body that we haven't begun to explore," he concluded.
Sugar-sweetened drinks
Diet beverages are typically sweetened with high levels of non-nutritive sweeteners, such as saccharin, acesulfame, aspartame, neotame, or sucralose, and the study suggests that these could be linked to incidents of stroke and dementia.
However, the study did not find the same association with sugary soft drinks.
'Our observation that artificially sweetened, but not sugar-sweetened, soft drink consumption was associated with an increased risk of stroke and dementia is intriguing,' the report mentions, but acknowledges that sugar-based drinks may lead to different health problems.
Limitations of study
The researchers studied 2,888 participants above the age of 45 for incident of stroke, and 1,484 over the age of 60 for dementia.
This was an observational study, based on participants self-reporting their drinking habits, so the researchers warn that they cannot infer causation, and that further research and clinical trials are needed to confirm their findings.
'It remains unclear whether artificial sweeteners cause hypertension or whether diet beverages are favoured by those most at risk,' the report concludes.
"Unproven claims"
Colm Jordan, director of the Irish Beverage Council has expressed his doubts over the findings of this report.
"Despite their claims the authors of this observational study admit they found no cause and effect and provide no science-based evidence whatsoever to support their theories," said Jordan.
"In fact, based on the evidence, [the] English health authority, Public Health England, is actively encouraging food and drink companies to use low calorie sweeteners as an alternative to sugar and help people manage their weight. Surely we should be trying to help consumers reduce their calorie intake, not presenting unproven claims."
© 2017 European Supermarket Magazine – your source for the latest retail news. Article by Sarah Harford. Click subscribe to sign up to ESM: The European Supermarket Magazine.