Dollar General Tumbles After Discount Push Squeezes Margins
Published on Sep 1 2017 10:20 AM in Retail tagged: Trending Posts / US Retail / Dollar General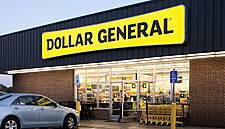 Dollar General is feeling the pressure as grocery competition heats up.
Shares of the dollar-store chain fell the most in more than two months after it reported a tighter gross margin in the second quarter. Deeper discounts and steeper pay for managers contributed to the profit squeeze. The company also is grappling with rising occupancy costs and a higher proportion of its sales going to less profitable consumable goods.
The stock rout shows investors are looking past Dollar General's better-than-expected revenue and comparable sales and have broader concerns about an industry where competition is forcing companies to carry out deep cuts to maintain growth. Food retailers are increasingly willing to sacrifice pennies on a wide array of products in order to get shoppers in the door.
"The report wasn't flawless," Gordon Haskett analyst Chuck Grom said in a note, citing the narrower profit margin in the quarter. With pessimism surrounding retail, the results "likely needed to be a touch better to keep the stock's recent strength going."
Dollar General dropped as much as 8.4% to $70.30 on Thursday, the most since June 16. The stock had gained 3.6% in 2017 through Wednesday's close.
Grom said recent reports from competitors such as Dollar Tree were comparatively better than Dollar General's, which reported gross profit margin of 30.7% - 47 basis points lower than a year earlier.
Price Focus
Chief Executive Officer Todd J. Vasos said the company is focused on low prices to attract shoppers.
"We are committed to being priced right for our customers to drive traffic to our stores," he said during a conference call with analysts after the report's release.
Dollar General, which operates more than 13,000 stores in 40 states, said comparable sales rose 2.6% in the second quarter, higher than the 1.6% increase forecast by analysts, according to Consensus Metrix. The company sees profit in a range of $4.35 to $4.50 a share this year - an improvement from an earlier forecast of $4.25 to $4.50 a share. Analysts projected a range of $4.38 to $4.55.
Vasos said the company closed more than 300 of its stores after Hurricane Harvey hit the US Gulf coast. Fewer than 100 remain closed.
"Our teams are working diligently to be able to service" customers in the region, he said. "Things are pretty fluid still down there, so we're not able yet to get to a few of our stores just because of the flood waters and the blockage down there."