Heineken Fights Off Hungarian Attack Over 'Communist' Star Symbol
Published on Mar 22 2017 1:27 PM in Drinks tagged: Featured Post / Hungary / Heineken / Star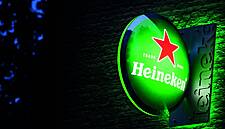 Who would have thought that Heineken would be seen as a symbol of communist oppression?
That's what's happening in Hungary, where Prime Minister Viktor Orban's ruling party has filed a bill to ban the vintage red-star logo, featured on products including the beermaker's iconic green bottles.
Accusing Amsterdam-based Heineken NV of bullying a small, partly ethnic-Hungarian-owned brewer in neighbouring Romania, after the Dutch company won a patent dispute there, the government in Budapest is pushing for fines, and even jail time, for anyone selling products featuring totalitarian symbols. That includes the red star that's also associated with the communist regime that ruled Hungary for more than four decades in the last century.
"We believe we have to defend every Hungarian brand when someone wants to use its market dominance to squeeze out others," parliamentary leader Lajos Kosa told reporters. "[The bill banning totalitarian symbols and the Heineken case is the] confluence of two issues."
The ruling Fidesz party is also trying to narrow the scope of the bill to ensure that products including Converse shoes and San Pellegrino bottled water, which also feature the red star, aren't affected, Kosa said. That's rekindled questions about government interference in the private sphere via targeted legislation – a recurring complaint from investors that helped pushed Hungary down to 69th place in the World Economic Forum's Global Competitiveness Index last year, from 52nd place in 2010, when Orban returned to power.
Brewing Magic
Heineken rejected the association that its star is a symbol of communism, saying that brewers have used the logo since the Middle Ages. Its points represent beer's ingredients: water, barley, hops, yeast, and a fifth that comprises the 'magic of brewing'.
"Naturally, the red Heineken star has no political meaning whatsoever, and we use the same brand symbols across the world, in every market," the company said in a statement. "We will closely monitor this local matter, and hope and trust that this matter will be resolved soon."
In a 2008 lawsuit brought by a Hungarian politician against Hungary, the European Court of Human Rights ruled that a red star cannot be understood as exclusively representing communist totalitarian rule. Kosa conceded that the bill had caveats and that the ruling party would modify it to stand up in international courts and to protect retailers.
News by Bloomberg, edited by ESM. Click subscribe to sign up to ESM: The European Supermarket Magazine.