Energy Drink Launches Grow 29% In Five Years As Global Sales Reach 8.8 Billion Litres
Published on Aug 28 2016 5:34 PM in Drinks tagged: Innovation / Energy Drinks / Mintel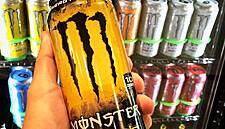 More energy drinks were launched globally in 2015 than in any year since 2008, with the number of energy drink products launched growing 29 per cent between 2010 and 2015.
That's according to new research from Mintel - revealing standout results for global energy drink innovation.
According to Mintel Global New Products Database (GNPD),
while energy drink launches around the world have seen a new lease of life, when it comes to innovation, Germany is king.
Indeed, Germany recorded the highest share of new energy drink product launches in 2015, overtaking the US for the first time.
Some 9 per cent of global energy drink launches occurred in Germany in 2015, as opposed to 8 per cent in the US. In comparison, Germany experienced just 6 per cent of global new energy drink product launches in 2014, while 10 per cent of global launches took place in the US.
It's not just energy drink innovation that is booming, as volume sales are also on a high. In 2015, the global market for energy drinks rose by an energetic 10 per cent to reach 8.8 billion litres.
Commenting on the data, Alex Beckett, Global Food and Drink Analyst at Mintel, said: "Energy drinks remain the controversial, yet undeniably successful, wild child of the soft drinks family."
The primary driver of global growth remains the drinks' capacity to provide consumers with a quick and effective energy boost – something which resonates with consumers the world over.
"Energy drinks are benefitting from being championed by giant brands, which devote huge investment to advertising and high-profile marketing initiatives to project an exciting and edgy image."
He continued: "However, in less developed regions, local energy drink brands are emerging and gaining distribution as a more affordable alternative to multinationals, adding pressure for major players to project a brand identity that consumers from New York to Beijing want to be associated with, and pay more for."
Consumers are showing strong interest in more natural energy drinks. Over half of consumers in Poland (61 per cent), Spain (54 per cent), Italy (54 per cent) and Germany (53 per cent) say they would like to see a wider variety of sports and energy drinks made with natural colourings and flavours.
In China, thirst for more natural energy drinks is evident in that two in five (40 per cent) consumers say they'd be encouraged to buy a sports of energy drink product made from natural ingredients.
"The rise in global organic energy drink offerings illustrates how the sector is attempting to appeal to a broader audience by conveying a more natural image. For the foreseeable future, brands will remain under pressure to reformulate with better-for-you ingredients."
Finally, Mintel research reveals that parents are emerging as a valuable audience for energy drinks. In Germany, one third (33 per cent) of adults drank a branded energy drink in 2015, rising to over two in five (44 per cent) of those with under-21's in the household.
Meanwhile, in the UK, three in five (58 per cent) parents with children aged 5 and under drink energy drinks, up from an average of 35 per cent.
"Young parents are emerging as a valuable user group for energy drink brands around the world. Although they are not the traditional target audience of 18-24s which typically feature in marketing campaigns, young parents and older millennials in general are the primary energy drink consumers."
© 2016 European Supermarket Magazine – your source for the latest retail news. To subscribe to ESM: The European Supermarket Magazine, click here.