EU Launches Battle For Bigger Post-Brexit Budget
Published on May 2 2018 11:45 AM in Retail tagged: Trending Posts / Budget / Brexit / European Commission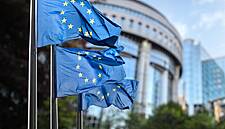 The European Commission met on Wednesday to agree proposals for a bigger, new multi-year budget that will trigger battles among member states over how to fill the funding gap left by Britain's exit next year.
A draft 2021-27 budget plan seen by Reuters confirmed plans to trim the biggest single item – farm subsidies – while boosting spending on research and digital technology, Eurozone stability – compensating for job losses caused by open trade – and, notably, on joint defence and frontier guards.
It also introduces a new mechanism to penalise countries – notably in the ex-communist east – where governments breach EU rules on ensuring judicial freedom and the rule of law. These could find some of their important EU funding being withheld.
'A budget for a Europe that protects, empowers and defends,' declared the Commission in its draft plan, urging the remaining 27 member states to make up the shortfall of at least €10 billion a year to be caused by Brexit after 2020.
'A Europe That Protects'
That language reflects a campaign from Brussels to persuade voters that the bloc remains relevant after a decade of crisis that has seen ferocious austerity in countries hit by the Eurozone debt crisis and uproar over the arrival of more than a million irregular migrants across the Mediterranean in 2015 alone.
"A Europe that protects" has also become a familiar demand from French President Emmanuel Macron, as he tries to work with German Chancellor Angela Merkel to tighten integration after the ever-sceptical British have left, while easing fears among voters that the EU means open borders and jobs exported abroad.
Budget Commissioner Guenther Oettinger, who will present the proposals after the morning meeting chaired by President Jean-Claude Juncker, told German television that the proposed budget would be greater in real terms than the €1.1 trillion in the 2014-20 Multiannual Financial Framework, due to inflation.
It will also be greater than 1.1% of the bloc's economic output – sharply up from the current 1.03%.
There Will Be Fights
Oettinger, who has called for states to show unprecedented speed and agree the budget within a year or so, said that it was inevitable that there will be disputes.
"There will be cuts, which many countries will complain about, and there will be new spending, which the others will complain about," he said.
Some of the richest contributors, including the Dutch and Swedes, have insisted that they will pay no more to fill the Brexit gap, while poor eastern states like Poland demand no cuts.
Germany and France, the biggest paymasters, have said that they are willing to pay more, as long as they like the budget's aims.
Capped Subsidies
Oettinger said that direct payments to farmers, which account for around a third of the entire budget, would be cut by about 5% overall, with the biggest farms having subsidies capped.
That could hit opposition from farm lobbies, notably in France, while the proposal to withhold cash from countries that fail to meet "EU values" in terms of independent courts will anger Poland and Hungary, especially, as their leaders are already at odds with Brussels over the 'rule of law' issue.
'The rule of law is an essential precondition for sound financial management and effective EU funding,' the draft budget proposal reads, noting that independent courts were needed to ensure fair tender procedures, combat fraud, and so on.
Other highlights include ramping up spending on the new EU border guard force, intended to block illegal immigrants, and a 30% increase in foreign aid, to €123 billion, over the seven years, reflecting an ambition to project European influence as the United States appears to pull back.
The draft also foresees Brussels raising more cash for itself, rather than relying on national contributions, but its proposals for new taxes on plastics or big global tech firms, or a claim on funds raised by carbon trading, face stiff opposition.
News by Reuters, edited by ESM. Click subscribe to sign up to ESM: European Supermarket Magazine.