European Private Label Awards 2019... Deadline Approaching!
Published on Sep 14 2018 4:30 PM in Private Label tagged: awards / European Private Label Awards / EPLA 2019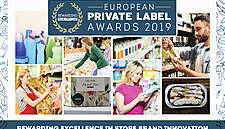 There's just over a month to go to submit your entries for the 2019 European Private Label Awards, which acknowledge the 'best of the best' when it comes to store brand innovation across Europe.
Organised by ESM: European Supermarket Magazine, the leading pan-European grocery retail publication, the competition is open to both retailers and suppliers operating in the private label sector.
The closing date for entries is 19 October, with the judging for this year's event taking place at the start of November. As with last year's competition, ESM will be inviting a team of renowned private label experts to Dublin, Ireland, for the judging process.
In last year's competition, leading grocery operators in Denmark, Germany, the Netherlands, Italy, Belgium, Norway, Portugal, Sweden, Finland, Spain and the UK were among the 30 finalists named across ten categories.
For information on how to submit your entry, visit www.privatelabelawards.com
HOW IT WORKS
Retailers and suppliers can apply for the European Private Label Awards via the dedicated awards website, www.privatelabelawards.com. All entries are subject to an entry fee, with discounts available for multiple entries. Entry fee must be paid with application.
Once the application process concludes, a judging panel, comprised of experts in the field of private label, will assess and appraise said products based on the following criteria:
1) Innovation. How well does a product convey innovation and differentiation from other products in the marketplace? How well does it tap into consumer trends and/or create new opportunities within its specific category?
2) Presentation. How well is this product presented? Does the packaging accurately convey the product's composition and qualities, and to what degree does the product stand out on shelf?
3) Taste. How does the product taste? Does it meet, or even exceed, taste expectations for a product in its category?
Following the judging process, Finalists in each category will be announced in ESM Issue 6, 2018, with the Winners announced in ESM Issue 1, 2019.
For more information, or to apply for the awards, visit www.privatelabelawards.com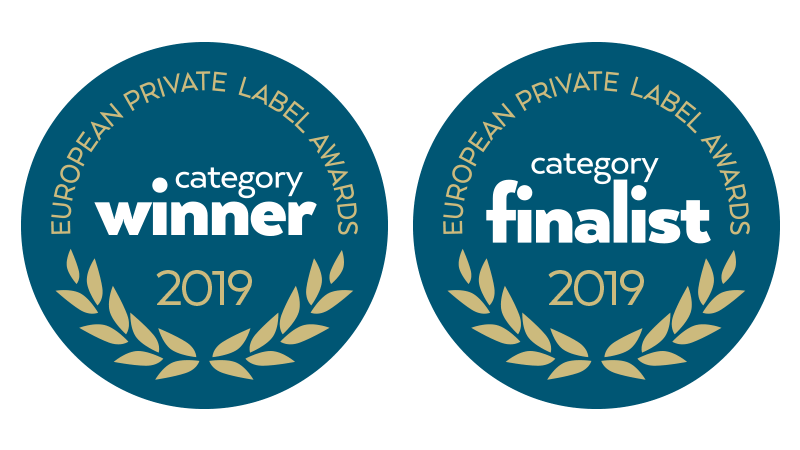 ABOUT THE CATEGORIES
There are twelve Award categories, which reflect the broad reach of private label development within the grocery landscape. The categories are as follows:
Dairy Products, includes Milk & Milk Products, Yoghurt, Yoghurt Drinks, Chilled Desserts, Cream, Cheese, Butter, Dairy Spreads, Flavoured Milk, Milkshakes…
Convenience Foods, includes Ready Meals, Food-to-Go, Pre-Packed Sandwiches and Snacks, Snack Pots, Instant Meals, Prepacked Fresh Berries, Fruit Pots, Chilled Soups…
Ambient Grocery, including Sauces, Soups, Oils, Canned Products, Jams, Preserves, Breakfast Cereals, Conserves, Baby Foods, Pasta, Rice, Baking Products, Stocks, Gravy Mixes, Salad Dressings…
Confectionery & Snacking, includes Chocolate, Sweets, Gums, Mints, Potato Chips, Popcorn, Biscuits, Cakes, Savoury Dips, Granola Bars, Chips (Other)…
Beverages (Non-Alcoholic), includes Soft Drinks, Juices, Energy Drinks, Squashes, Cordials, Mineral Water…
Beverages (Alcoholic), includes Beer, Wine, Spirits, Flavoured Alcoholic Beverages, RTD Alcoholic Beverages…
Meat & Seafood, includes Sliced Meats, Chilled Prepared Meats, Breakfast Meats, Meat Products, Seafood Products, Shellfish
Non-Food (Household), includes Detergents, Washing Up Liquids, Fabric Softeners, Dishwasher Products, Ignition Products, Refuse Sacks, Household Sprays, Bathroom Cleaners, Kitchen Cleaners, Air Fresheners, Batteries, Hard Surface Cleaners…
Non-Food (Personal Care), includes Deodorants, Creams, Lotions, Shower Gels, Soaps, Shampoo, Hair Conditioners, Razors, Sanitary Protection, Baby Wipes, Nappies, Diapers, Facial Tissues, Toothpaste, Oral Care Products, Oral Analgesics, Cough & Cold Remedies…
Frozen Food, includes Frozen Meat Products, Frozen Vegetable Products, Frozen Snack Products, Ice Cream, Frozen Snacks…
Pet Care, includes Pet Foods, Pet Snacks, Pet Treats, Pet Hygiene Products…
Tea, Coffee & Hot Drinks, includes Tea, Coffee, Hot Chocolate, other hot beverages (excludes Soups)
For more information, or to apply for the awards, visit www.privatelabelawards.com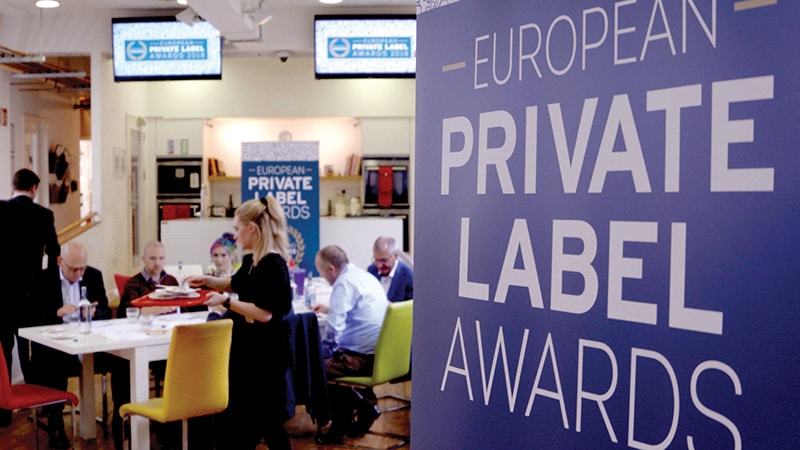 ABOUT THE SPONSOR
ESM is proud to announce that M.A.D.E. (Marques Associées Distribution Event), the annual retail and consumer goods trade exhibition in Paris, has been confirmed as the sponsor for the 2019 edition of the European Private Label Awards. ESM is delighted to count on the group's expertise in the future development of the awards.
Formerly known as MDD Expo, M.A.D.E. is a platform for co-design and co-creation among brands and distributors, encouraging the industry to arouse its curiosity, boost its creativity and, most importantly, generate business. For more information, visit www.madeparis.com.
WHAT THEY SAID
Feedback from participants in the inaugural European Private Label Awards
"We are delighted with the initiative by ESM to launch these awards, as we believe they are a valuable addition to the European supermarket world."
Wouter Lefevere, Head Of International Buying, SPAR International
"The awards had a meritocratic selection process, and have had a positive impact for Ioniki as a winner. All the best to the ESM team for the years ahead!"
Nikos Tsiftsoglou, Head of Exports, Ioniki Sfoliata SA
"The European Private Label Awards by ESM is an important competition for displaying new and innovative private label products from European retailers. This competition really shows that private label products have become both unique and innovative, and we are very pleased that ESM is launching these Awards."
Line Wanderås Németh, Head of Conceptual Development Private Label, Coop Norge SA
"We are very happy with the newly-launched European Private Label Awards by ESM. These awards point out the increased level of innovation, as well as quality and efficiency, in the Private Label Market. We will definitely sign up again next year and in the years to come. For us, this award is a quality mark."
Sanne Strandskov, Marketing Coordinator, Nopa Nordic
"The competition clearly shows that private label is about so much more than copying branded goods. The new products, innovative concepts and product lines that retailers brought forward will no doubt directly add value to any supermarket shelf."
Sebastiaan Schreijen, RaboResearch Food & Agri (FAR)
For more information, or to apply for the awards, visit www.privatelabelawards.com
© 2018 European Supermarket Magazine – your source for the latest retail news. Click subscribe to sign up to ESM: The European Supermarket Magazine.