The 12 Ads Of Christmas - And The Winner Is….
Published on Dec 22 2016 12:04 PM in Features tagged: Featured Post / Carrefour / Lidl / Edeka / Rewe / SuperValu / John Lewis / Christmas / Advertisements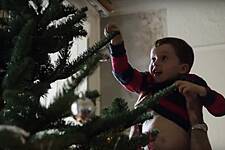 Ding dong merrily on high! Earlier this week, ESM: European Supermarket Magazine called on its social media followers to vote for their favourite retailer Christmas advertisement from across Europe, in our inaugural '12 Ads of Christmas' poll.
Following hundreds of replies, likes and shares, the results have now been counted and verified, and we are proud to announce that this year's winner is...
Drumroll please...
SuperValu, from Ireland!
The Irish retailer's Christmas 2016 commercial is all about food, and people, or 'Real Food, Real People' as we are informed at the end of the ad, which runs for one minute precisely.
We follow the extended family's preparations for the Christmas holidays: putting up and decorating the tree, going shopping - at SuperValu of course - and cooking mountains of food. Despite the usual accidents and incidents along the way, the outcome is a Christmas feast of course, fit for kings.
In between shots of food, wine and more food we see a grandfatherly figure dozing off on the sofa, a grandmother struggling with the remote control, and a bunch of children charging about, reluctantly helping in the kitchen or playing games.
The chosen music for the soundtrack is the American Authors song, 'Best Day Of My Life', in a dreamy piano version by Irish musician Nina Hynes.
A huge congratulations to SuperValu for taking this honour. Placing second was UK retailer John Lewis with its 'Buster the Boxer' commercial, while Lidl UK's 'Homecoming' placed third.
Below, you can find ESM's critical take on these and each of the most popular Christmas ads this season, from across Europe.
With contributions from Steve Wynne-Jones, Martha Sparrius, Peter Donnelly, Fabian Novakovics and Karen Henderson.
Buster the Boxer's Christmas Wish - John Lewis (UK)
This popular ad, packed full of charming woodland creatures, is a marketer's dream mix of cute animals, family love, and Christmas.
It opens with Buster the Boxer, panting and mouth agape, as he watches the family daughter jump on her bed. Her father works outside in the freezing cold to assemble a trampoline. As he returns inside for his well-earned Christmas couch-time, the neighbourhood animal menagerie tries it out, starting with some cheeky foxes.
They jump in slow-motion, choreographed bliss whilst 'One Day I'll Fly Away', performed by Vaults, plays. With the humans oblivious to the display outdoors, Buster glares out the window and growls as his lucky leaping companions play.
As a sunny Christmas morning dawns, the little girl runs out in PJs and slippers to enjoy her present, and nearly gets mowed down by a dashing Buster. She then stares wide-eyed in amazement at his frolics, along with her parents, who perhaps now wish they had gotten her the iPad she wanted in the first place.
Lidl's 'Homecoming' Makes Us Believe A Little (UK)
This ad depicts an energetic collection of adults and children arriving at the old, switched-off and boarded-up family home, followed by happy, messy scenes of them all mucking in and mucking out, cooking and decorating by candlelight.
The story cuts to the father, looking at a framed photo of himself and his wife, taken outside the family home. As they drive up to the family home - "What's going on?", he muses - someone gets the generator going and the whole place is lit up, including the roof, which is covered in coloured lights.
The story ends with the happy gathering at the Christmas table, the empty place set beside the grandfather soon filled by a lively granddaughter.
Christmas. We Can't Wait, Says Albert Heijn (The Netherlands)
Dutch retailer Albert Heijn's Christmas 2016 commercial pokes a 'little' fun at the very Dutch fondness for DIY and diminutives, which it uses almost by default. To a jolly-uncle version of 'It's The Most Wonderful Time of The Year', we see a family of three arriving at a forest of Christmas trees, armed with a bow saw, to pick and cut their own tree.
On the way, a helpful, invisible friend asks the obvious question: "Won't you get into trouble, for stealing a tree?" Never fear, viewer! It's a designated area to cut your own tree.
The friendly voice mockingly reminds the couple to pick a little tree (boompje) - sure, wasn't last year's a little large for the house? - but the the right size is quickly found, cut and schlepped home, where it naturally barely fits through the door and scrapes the ceiling.
"It looked a lot smaller in the forest", they cry.
The Trials Of Kevin The Carrot - Aldi (UK)
Aldi's 'Christmas 2016' ad takes us through the adventures of 'a young carrot', clearly unaware of the fate that awaits all vegetables to share a table with Tommy the Turkey.
To an animated reading of an adapted, 'T'was the night before Christmas', we follow the protagonist as he sets out to meet Santa: traveling across a perilous 'Christmassy spread', barely jumping clear of an avalanche of potatoes and getting into a scrape - pun intended - with a grater.
Frozen, crossing the ice, and scorched by a burning plumpudding, he arrives at the chimney, ready for 'a quick forty winks'. He wakes up to a spot of air travel and is last seen "powering on" a reindeer, dangling in front of its nose.
To coincide with the ad's release, Aldi launched a limited edition of fluffy toy-carrots, donating 100% of the profits to Barnardos.
I Will Survive...Christmas - Rewe (Germany)
This year's Christmas ad by German retailer Rewe manages to breathe some new life into the exhausted plot-device of the disapproving mother-in-law.
In 81 seconds, it tells a story that is imaginative, well-acted and directed, and choreographed with German precision. Gloria Gaynor's I Will Survive, cleverly adapted to underscore the action, presents a welcome change from string quartets or epic orchestras and a perfect alternative Christmas anthem for its lively mix of happy sound and defiant words.
The story starts with a husband breaking the news that his mother will join the family for Christmas. We follow the daughter-in-law as she recovers: "At first I was afraid..I was petrified... kept thinkin' I could never make a festive meal with pride," she sings.
She survives sleepless nights, battles with kitchen appliances, mishaps and existential crises: "I should've changed that stupid pot.. I should have made a different sauce."
She finally grows confident enough of her abilities, tackling a fresh box of quality veg - from the Rewe Market conveniently located inside the fridge - with such contagious joy that her chopping knife keeps cutting as she checks the bubbling pots.
With the turkey finally on the table, all eyes turn to the ice queen: she picks... chews... concedes: "Scheisse, ist das lecker!" Holy crap, it's delicious.
'The Christmas Wrapping Paper Factory' - El Corte Inglés (Spain)
This effort from Spanish retailer El Corte Inglés is a well-produced look at a magical factory where elves work away to make sheets of festive El Corte Inglés stamped wrapping paper, producing reams of the glossy material.
This is the retailer's 75th year of producing its eponymous wrapping paper, and it wants to remind the viewer that it isn't just what's inside the paper that counts. The advert ends with a view of an El Corte Inglés building, with "We Love Christmas" spelled out in neon on the building against a backdrop of flashing lights and giant baubles.
A Video Gift Card for Christmas - Carrefour (France)
This carefully neutral ad from French chain Carrefour seems intended to not offend anyone with Christmas garishness.
It opens with a young girl, in a pastel room, dictating a letter to a loved one. She dumps out her piggy bank and goes to find a gift to express her love.
There isn't a Christmas tree or decoration in sight, as she and her father travel to the Carrefour check-out where she uses her savings to buy a video gift card. An older woman, presumably a grandmother, opens the card and also receives a personalised video message from her smiling wee one.
Engineering Christmas - Coop (Switzerland)
Coop Switzerland's 2016 Christmas advert celebrates family and innovation – namely that of a young boy whose Leonardo da Vinci-esque sketches of a sled are ignored by his parents – until the spirit of Christmas helps his ideas be realised.
Quasi-ignored as a result of his parents' busy lives, the boy with a penchant for engineering takes solace in the company of a reindeer sympathetic to his troubles. Only the loyal steed understands, until a carpenter recognises the boy's talent through his sketches, and helps him realise his designs through woodwork.
His parents are also amazed at his talent, and touched by his heartfelt, hand-made gifts – giving him the affection he has been craving during the busy holiday period.
This is an amusing and affecting portrait of a young boy's sense of isolation, with humour and pathos playing off one another to form a well-crafted Christmas advertisement.
#ToTheHosts - Tesco (Ireland)
This tribute series to the hardy hosts of Christmas festivities features a variety of different characters thanking their loved ones who make the holidays special (and don't burn the gravy).
Shot in a very casual but intimate manner, we are introduced to characters such as young Caitlin writing her thanks to her nana, a young woman who is grateful to her mother for her unwavering determination, and a young man (Graham) who is sending a letter to thank his grandparents for their generosity.
The cuteness factor is upped again by bespectacled twins who wax lyrical about nana's wonderful hugs (which can be the bane of some grandchildren's existence), while Caitlin smiles mischievously about escaping her Brussels sprouts.
#Zeitschenken (Time) - Edeka (Germany)
This ad follows up on 2015's success of 'Heimkommen', or 'homecoming', which featured an older gentleman tricking his absent family into thinking he was dead so that they would all spend the holiday season together.
This year's effort boasts a similar sense of discontent and isolation. Two unhappy children plead for their busy parents' attention while they try to obsessively prepare the 'perfect' Christmas by shopping, cooking, decorating, and generally forgetting the true meaning of the season.
Finally, the inattentive parents realise that their children have been looking glum for days, and catch on that they have been ignoring them. They make it up to them by reading books, playing with dinosaurs, getting their help putting up lights, and generally being better human beings than before.
"One thing makes it all worthwhile," the narrator speak-sings over a piano tune. It ends with the final words "the best gift is time spent with you," embodying the ad's theme of Zeitschenken, or time.
© 2016 European Supermarket Magazine – your source for the latest retail news. To subscribe to ESM: The European Supermarket Magazine, click here.