Coming Up In ESM Issue 3 2017
Published on Feb 24 2017 4:24 PM in Features tagged: ESM: European Supermarket Magazine / Issue 3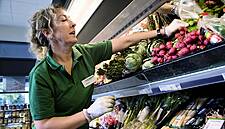 As we count down towards the summer months, ESM: European Supermarket Magazine casts its eye over the latest developments in the private label industry, as well as look north to how innovative retailers are seeking to gain share in the Nordic region. ESM Issue 3 will be published in mid-April, and will include features on private label developments, frozen food, 'Click & Collect', convenience foods, and many more.
Nordics - Regional Focus
With a population that boasts one of the highest levels of purchasing power in Europe, it's not surprising that the Nordic Region, encompassing Norway, Sweden, Denmark, Finland and Iceland is in the midst of a retail boom. In this special report, we speak to retailers leading the charge across the region as well as suppliers enjoying success in this growing market. This special section includes interviews with Sonat Burman-Olsson, CEO, Coop Sweden; Mikko Helander, CEO, Kesko Finland and Geir Inge Stokke, CEO, Coop Norway to name but a few.
PLMA World of Private Label Preview
PLMA's World of Private Label trade show returns to RAI Amsterdam on 16 and 17 May, with more than 4,300 exhibitors set to attend. ESM will once again bring you an extensive guide to what this year's show has to offer, including insight on key trends in the private label sector, and a profile of the most innovative producers.
Piotr i Paweł
Exclusive interview with Robert Krzak, Supervisory Board Member, Grupa Piotr i Paweł, a retailer that has positioned itself as the 'Waitrose of Poland', with a quality offering that is the envy of many more established retailers in the region.
Frozen Food
The global market for Frozen Food is expected to grow at a CAGR of 4% between now and 2020, and could be worth as much as $360 billion globally by 2024. In this issue, we examine the latest trends in the category, and speak to the brand owners and retail representatives that are leading the innovation charge.
Click & Collect
As consumers become increasingly 'digitised' with their shopping habits, 'Click & Collect', or 'Drive' services are now commonplace across France, the UK and many other European countries. ESM analyses the current state of the market, and what factors are helping to 'drive' the category forward.
Convenience Foods & Food-To-Go
With consumers increasingly time-poor, retailers and brand owners alike have been quick to seize upon the food to go market, developing a raft new product innovations and meal options. In this edition of ESM, we examine the growth opportunities open to producers in the Convenience Foods and Food To Go sectors, and examine the consumer trends that are driving this growth.
Refrigeration
With the global market for commercial Refrigeration now valued at $38 billion, according to data from Chillventa, and set to rise to more than $41.5 billion by 2022, it's no surprise that retailers and brand owners alike are reappraising their refrigeration capabilities. ESM examines the leading refrigeration suppliers that are leading this innovation drive, and examines why it is so important for retailers to be able to 'keep things cool'.
Supply Chain: Inventory Management and Optimisation
With most retailers and brand owners striving to generate greater efficiency within their supply chains, it's no surprise that investment in Inventory Management and Optimisation systems is rising. In this report, ESM looks at the latest developments in this exciting sector.
Soft Drinks
The global Soft Drinks market is scheduled to grow at a rate of 7% between 2015 and 2018, according to a recent study by Technavios, however much of this growth will not come from traditional carbonated beverages such as cola, but from an increasing number of functional drinks and RTD offerings. It's the biggest shift in the soft drinks market since the 'Cola Wars' of the 1980s and in this edition of ESM, we lift the lid on the latest developments and key suppliers in this dynamic sector.
Plus, ESM's regular Europe's Newsmakers section profiles the men and women making the news within the grocery retail sector over the most recent quarter.
Subscribe now to take full advantage of this exclusive content.
Advertising
For further details on any of these features, contact the ESM sales team at:
Niall Doyle   [email protected]
Des Ball   [email protected]
Alex Silva   [email protected]
Marek Fialek   [email protected]
Rocio Palma Perez   [email protected]
Neill Burke  [email protected]
Click subscribe to sign up to ESM: The European Supermarket Magazine. Content subject to change. For details of our sales packages, click advertise.