Coming Up In ESM Issue 5 2018
Published on Jul 8 2018 5:16 PM in Features tagged: ESM: European Supermarket Magazine / ESM: ESM Issue 5 2018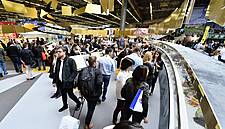 Copy Deadline: Thursday 20 September
Goes to Press: Tuesday 25 September
They don't get much bigger than SIAL, the biennial trade show in Paris, and as buyers and suppliers gear up for this year's event, ESM: European Supermarket Magazine presents an in-depth preview of what visitors can expect. In addition, we profile the most chosen brands from across Europe in our comprehensive Kantar Worldpanel 'Brand Footprint' report, and examine the latest trends in the Meat & Poultry category, along with much, much more.
SIAL 2018 Preview
SIAL, the world's largest food innovation exhibition (pictured above), returns to Paris Nord Villepinte from 21 to 25 October, and with 7,020 companies from 109 countries expected to attend, across some 21 exhibition sectors, planning your visit effectively can be a challenging task. But help is at hand! ESM presents all you need to know about this must-attend event.
Kantar Worldpanel Brand Footprint Report
Kantar Worldpanel's annual Brand Footprint report ranks the best of local and global brands through the use of an all-important metric: how often they are chosen by consumers. The report covers 15,000 brands, 200 categories, 44 countries and five continents, making it one of the most important barometers on brand performance in the industry. For the third-year running, ESM will reveal the most-chosen brands in eleven European markets: France, Germany, Greece, Ireland, Italy, Poland, Portugal, Russia, Spain, Turkey and the UK, and examine what these statistics tell us about the continent's shopping habits.
Meat & Poultry
The Meat & Poultry category is experiencing a level of premiumisation at present, with provenance, traceability and artisan products very much at the forefront. However, the category remains a consumer staple, and the onus is on retailers to provide good quality options at all price ranges. ESM profiles this dynamic category, and speaks to some of the most innovative meat and poultry product suppliers operating in the European retail space.
In-Store Lighting
While consumer needs are continually changing, one thing remains consistent for retailers: making sure products look good in store. Lighting is arguably the most important tool a retailer can have; providing stores with a new identity or atmosphere, and breathing life into even the most tired displays. ESM investigates.
Supply Chain: Warehouse Automation
Warehouse automation has been a hot topic within the supply chain industry for more than a decade – and the latest advancements in technology mean that it is now more affordable than ever to integrate automation into a retailer's supply chain. ESM profiles some of the leading warehouse automation solutions on the market.
Plus much much more, including...
Exclusive interview with Olaf Koch, chief executive of Metro AG, one year on from the successful splitting of the grocery and wholesale business from its consumer electronics operations...
We catch up with IGD chief executive Joanne Denney-Finch ahead of her departure from the UK-based education and training charity after more than 20 years of leadership...
We preview the forthcoming Consumer Goods Forum Sustainable Retail Summit, taking place in Lisbon this October...
ESM speaks to Guillaume Bacuvier, chief executive of dunnhumby, about how retailers and brands should focus on their most loyal shoppers in order to drive real results...
We chat to John Zealley, senior managing director, and Oliver Wright, managing director of Accenture's Consumer Goods division about the challenges facing big brands when it comes to engaging with an increasingly disparate customer base...
Subscribe now to take full advantage of this exclusive content.
Advertising
For further details on any of these features, contact the ESM sales team at:
Niall Doyle   [email protected]
Des Ball   [email protected]
Rocio Palma Perez   [email protected] 
Neill Burke  [email protected]
Alan O'Brien  [email protected]
Click subscribe to sign up to ESM: The European Supermarket Magazine. Content subject to change. For details of our sales packages, click advertise.