Coming Up In ESM Issue 1 2018
Published on Nov 26 2017 4:22 PM in Features tagged: ESM / ESM: European Supermarket Magazine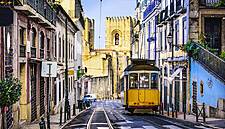 Copy Deadline: 1 February
Goes to Press: 6 February
A new year brings with it new opportunities, and in the first issue of 2018, ESM examines how retailers can best position themselves when it comes to technology and shopfitting, as well as explore the latest trends in the dairy category. We also shine the spotlight on the Portuguese food and beverage sector, and reveal the winners of our inaugural European Private Label Awards.
European Private Label Awards 2018: The Winners
Following a six month process, and an extensive judging programme, ESM is proud to present the winners of the inaugural European Private Label Awards, across ten categories: Dairy Products, Convenience Foods, Ambient Grocery, Confectionery & Snacking, Beverages (Non-Alcoholic), Beverages (Alcoholic), Non-Food (Household), Non-Food (Personal Care), Frozen Food and Pet Care. We also reveal details of our 2019 competition - highlighting the best private label innovations of the coming year.
Country Focus: Portugal
Having emerged from a deep recession at the start of the decade, Portugal is now one of the fastest-growing economies in Europe, with the IMF forecasting a 2.5% growth rate for this year, and unemployment below 10%. In terms of the country's food and beverage sector, increased consumer confidence and a lessening of the 'price war' that dominated the retail space, is leading to greater demand for authentic, premium quality produce: something the country has no shortage of. In this special report, ESM explores the best Portugal has to offer.
The Digital Issue: Retail Technology
With technology evolving at such a rapid pace, and online shopping gaining prominence around the world, the challenge for traditional bricks and mortar retailers to remain relevant to increasingly digitised consumers has never been as complex. In our first issue of the year, and one year on from EuroShop 2017, ESM examines the technologies that are assisting retailers take the next step, as well as look ahead to what the future might have in store for the grocery retail space. We also look at how technology is driving the efficiency of customer engagement and loyalty programmes. Includes interviews with senior executives at Amazon Prime, JD.com (China's second biggest online retailer) and Ozon.ru (Russia's biggest online retailer).
Shopfitting and Store Design 2018
Traditionally, store refits tended to be carried out 'every five or six years', yet the increased demand for retailers to be continuously in tune with changing consumer demand, means that store design is now a constantly evolving process. How can retailers best position themselves for the needs of the consumer both today and into the future? In this special feature, ESM looks at Store Design in 2018, and talks to leading design companies and fit out firms about the most important areas of investment for retailers.
M.A.D.E. 2018 Preview
Having relaunched last year with its most successful event to date, 2018 sees M.A.D.E. (Marques Associées Distribution Event) return to Paris on 20 and 21 March. In this issue, ESM looks forward to this must-attend event highlighting the best elements of what promises to be a significant event in the trade show calendar.
Dairy Products
While the Dairy Products sector has been affected by economic instability, fluctuating commodity prices and changing consumer diets, producers in the sector are investing in new product development, tapping into healthy eating trends and investing in new formats in order to attract new shoppers to the category. In this report, ESM examines how the Dairy Products industry is positioning itself to better meet the needs of an increasingly demanding consumer base, as well as look at what leading suppliers are doing to create a USP in this space.
Plus Much Much More, including
ESM meets Jo Ghilain, Business Unit Manager at Bio-Planet, a Belgian retail concept developed by retailer Colruyt, that aims to offer affordable organic and eco products, in the most sustainable store format possible.
We travel to Stockholm to meet Magnus Groth, the Chief Executive of Essity, one of the world's biggest paper products manufacturers, following its recent split off from SCA.
We chat to author and futurist Wijnand Jongen about his new book, The End Of Online Shopping, and look at how the debate about 'online' and 'offline' shopping is complicating the dialogue on the future of retail.
ECR Community's Shrinkage and On-Shelf Availability Group recently held a seminar in Prague to discuss the development of a 'collaborative  maturity' model in dealings with retailers and suppliers. We report from this interesting event.
In the first of a new series, ESM examines some of the most eye-catching and innovative packaging designs in one of retail's fastest-growing sectors: Craft Beer.
ESM's regular Europe's Newsmakers section profiles the men and women making the news within the grocery retail sector over the most recent quarter.
Plus much much more…
Subscribe now to take full advantage of this exclusive content.
Advertising
For further details on any of these features, contact the ESM sales team at:
Niall Doyle   [email protected]
Des Ball   [email protected]
Marek Fialek   [email protected]
Rocio Palma Perez   [email protected] 
Neill Burke  [email protected]
Alan O'Brien  [email protected]
Click subscribe to sign up to ESM: The European Supermarket Magazine. Content subject to change. For details of our sales packages, click advertise.