Coming Up In Issue 2 2018
Published on Feb 6 2018 12:47 PM in Features tagged: ESM: European Supermarket Magazine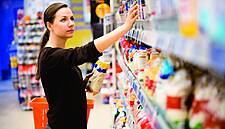 Copy Deadline: 8 March
Goes to Press: 13 March
In ESM: European Supermarket Magazine's second issue of the year, we bring you the inaugural Europe's Fastest Growing Product Categories report, produced in association with IRI, which is certain to be essential reading for anyone involved in supermarket buying operations. Elsewhere, we look at the trends shaping the Italian market, and travel to Sweden to meet Klas Balkow, the new chief executive at leading retailer Axfood.
Europe's Fastest Growing Product Categories, In Association With IRI
What trends are driving category sales growth across Europe, and what is influencing consumer purchasing behaviour? In what categories is private label having the most influence, and where are brands holding their own? These questions and more will be answered in this first-of-its-kind report, developed in conjunction with IRI, as ESM deep-dives into grocery's core categories in six key European markets (France, Italy, Germany, the UK, the Netherlands and Spain). Not to be missed.
Country Focus: Italy
The Italian grocery market is worth around €129 billion (USDA: 2016), with a host of major operators vying for their share of the customer's basket. But which retailers are performing strongest in terms of generating a unique customer experience? And which brands and categories are gaining the most traction in the eyes of the consumer? In this report, we explore the challenges and opportunities inherent in the Italian grocery market, and speak to industry experts about what the future might hold. In addition, we meet up with Francesco Pugliese, the chief executive of Conad, one of the country's biggest retailers, and pay a visit to FICO Eataly World, a new food 'theme park' concept in Bologna, from the creators of the Eataly franchise.
Seafood
Recent research indicates that the global frozen fish and seafood market is likely to grow at a CAGR of 4.63% during the period 2016-2020, driven by increased demand in emerging markets. In addition, the World Bank recently estimated that by 2030, around 70% of the demand for fish and seafood will be from Asia-Pacific countries, meaning that in order to meet increased global demand, production will need to increase more than two-fold. In addition, new presentation methods and ready-to-eat solutions in seafood is attracting new consumers to the category. In this special report, ESM 'casts its net' over the European seafood trade and speaks to both retailers and suppliers about the growth potential therein.
Ethnic Products
As consumer tastes broaden, so European retailers are looking to increase the range of authentic ethnic products in their repertoire. While Italian, Indian, Mexican and Chinese flavours are well-known around the globe, savvy retailers are broadening their horizons to seek out new exotic flavours, In this special report, ESM profiles some of the key trends in the global ethnic foods market, and looks at the flavours most in-demand in 2018.
Free From Foods
The Free-From Foods category continues to gain traction among consumers with a genuine food intolerance, as well as those looking to eat more healthily. The worldwide gluten-free market is estimated to grow by around 10% between 2015 and 2020, driven by the entry of big brands, as well as specialist players into the marketplace; a trend that is also being seem in lactose free. As retailers are discovering, free from foods is a category that offers untapped sales potential, both in terms of branded and private label sales. In this special report, ESM examines the future growth opportunities in this dynamic category.
Pet Food
Pet Food is a category that has well and truly entered a period of maturity, with pet owners increasingly selective abut what they feed their pets. In many European markets, couples are putting off starting a family until later in life, meaning that the household pet is a 'surrogate child' in many households - as such, shoppers demand only the best. Thus premium private label ranges are gaining prominence, as is the pet treats market. Shoppers are also demanding products with added-value components, such as vitamins and minerals, as well as a heightened degree of provenance. ESM looks at the core trends driving this dynamic category.
Plus Much Much More, including
Axfood is regarded as one of Sweden's finest grocers, and under newly-appointed chief executive Klas Balkow, the group is seeking to become a byword for responsible, values-led retailing, ESM travelled to Stockholm to meet him.
Upmarket retailer Waitrose owes much of its success over the past decade to Lord Mark Price, its former managing director, who left the business in 2015 to take up a trade position with the UK government. Having recently departed that role, Lord Price has no shortage of advice as to what retailers - and indeed Theresa May's government - should focus on in post-Brexit Britain. ESM met him.
ESM's regular Europe's Newsmakers section profiles the men and women making the news within the grocery retail sector over the most recent quarter.
Plus much much more…
Subscribe now to take full advantage of this exclusive content.
Advertising
For further details on any of these features, contact the ESM sales team at:
Niall Doyle   [email protected]
Des Ball   [email protected]
Marek Fialek   [email protected]
Rocio Palma Perez   [email protected] 
Neill Burke  [email protected]
Alan O'Brien  [email protected]
Click subscribe to sign up to ESM: The European Supermarket Magazine. Content subject to change. For details of our sales packages, click advertise.