Coming Up In Issue 3 2018
Published on Mar 13 2018 12:48 PM in Features tagged: ESM: European Supermarket Magazine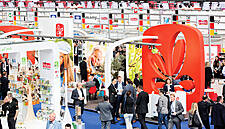 Copy Deadline: 27 April
Goes to Press: 2 May
Private label is big business, and it's only getting bigger. In the third issue of ESM: European Supermarket Magazine this year, we bring you our annual PLMA World of Private Label preview; showcasing the must-visit stands and not-to-be-missed features of the upcoming PLMA show in Amsterdam.
PLMA World of Private Label 2018 Preview
The biggest dedicated private label event in the world, PLMA's World of Private Label trade show returns to RAI Amsterdam on 29 and 30 May, and this year's event is set to welcome more than 14,000 trade professionals from 115 countries, making it arguably the biggest to date. Over more than 30 years, the show has carved out a niche as the must-attend event for anyone involved in buying, selling or retailing private label products. In ESM Issue 3 2018, we feature our annual show preview; a comprehensive guide to both the event itself as well as the current trends driving own brand sales across Europe.
Latin and South America: Product Focus
The European Union is the Mercosur region's largest trading partner internationally, accounting for more than a fifth (21%) of the region's total trade in 2015. As regards Latin America, Europe is the third biggest trading partner (after the US and China). In both cases, food is understandably among the top commodities trading between the two continents. For European retailers, growing sophistication in production methods, better supply chain and transport networks, and a loosening of trade ingredients means that trade with Latin and South America has never been as efficient or cost-effective. ESM looks at the opportunities open to food retailers.
Frozen Food
The global frozen food market is anticipated to be worth more than $300 billion by the end of the decade, with more and more consumers drawn to the freezer aisle thanks to improved quality and freshness perceptions. Longstanding category drivers such as ready meals and prepared foods such as pizzas are undergoing product reformulation to appeal to a wider, health-conscious range of shoppers, while new twists on frozen vegetables, meat products and desserts are breathing new life into what was traditionally an uneventful category. In this report, ESM looks at what retailers and suppliers are doing to drive category growth in this increasingly dynamic sector.
Convenience Foods & Food To Go
With consumers increasingly time-poor, retailers and brand owners alike have been quick to seize upon the food to go market, developing a raft new product innovations and meal options to cater for most consumer whims. However, the rise of healthy eating and the continued need for quality and value for money is driving the market towards a level of maturity, with upmarket ready meals and healthier snacking options now very much part of a retailer's repertoire. In this edition of ESM, we examine the growth opportunities open to producers in the Convenience Foods and Food To Go sectors, and examine the consumer trends that are driving this growth.
Cold Chain Logistics
With recent improvements in both the efficiency and cost-effectiveness of in-store refrigeration, the logistics industry has had to up its game to meet consumer demand for better quality fresh and frozen products, As such, cold chain logistics - ensuring products are kept at the right temperature from production, through to distribution and then the supermarket shelf - is an increasingly important sector. Retailers and suppliers alike are seeking next generation systems that help keep costs manageable and have a low carbon footprint. ESM examines the leading manufacturers in this dynamic industry, and examines why it is so important for retailers to be able to 'keep things cool'.
EPOS and Point-of-Sale Technologies
Just as smartphone technology is ushering in a new era for telecommunications, so the EPOS (Electronic Point of Sale) industry is at the forefront of much of the technological advancement currently underway in Europe's supermarkets. Offering far more than accepting payments, today's POS terminals are increasingly NFC-enabled, meaning they are capable of accepting digital payments through smartphones and other enabled devices, offer greater security, ease of operation and are often powered by cloud computing, enabling much more data to be garnered from consumers. At the same time, however, retailers need to be sure that the POS system they invest in is right for their business. ESM explores this growing market.
Scanning Technology
As with the latest advancements in POS technology, so scanning technology has entered a new era of sophistication, with a latest advancements in self-checkouts spearheading this growth. Research has shown that retailers that utilise effective self-checkout solutions can operate their stores more efficiently and gain a competitive advantage. At the same time, however, self-checkout can be a significant investment, so retailers need to be sure that they can maximise the opportunity and gain ROI. Elsewhere, handheld scanners and 'scan as you shop' solutions are increasingly putting control in the hands of the customer. In Issue 3, ESM examines the latest developments in scanning technology.
Plus much much more, including...
The Consumer Goods Forum Global Summit takes place in Singapore in June, bringing together some of the biggest names in retail and FMCG, to discuss where the industry goes next. ESM previews this year's event.
La Grande Épicerie de Paris, one of Europe's most renowned food halls, has opened a second store, on the slightly less-fashionable Right Bank. ESM discovers what the new-look store has to offer.
Subscribe now to take full advantage of this exclusive content.
Advertising
For further details on any of these features, contact the ESM sales team at:
Niall Doyle   [email protected]
Des Ball   [email protected]
Marek Fialek   [email protected]
Rocio Palma Perez   [email protected] 
Neill Burke  [email protected]
Alan O'Brien  [email protected]
Click subscribe to sign up to ESM: The European Supermarket Magazine. Content subject to change. For details of our sales packages, click advertise.