Coming Up In ESM Issue 4 2017
Published on Apr 26 2017 6:04 PM in Features tagged: ESM / European Supermarket Magazine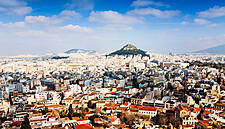 In Issue 4, ESM: European Supermarket Magazine will showcase some of the brightest new store openings and revamps in our annual Europe's Finest report, as well as look at the opportunities open to brands in the Olives & Olive Oils and Hot Drinks categories. We also look at how Greek businesses are exploring export opportunities to counter their own domestic challenges.
Greece: Country Focus
The Greek retail sector is a story of weakened consumer spend over the past number of years. However, out of every challenge, there are opportunities, and Greek food companies are investing in their businesses and developing innovative new product ranges that tap into consumer trends both in their domestic market and overseas. In Issue 4 2017, of ESM, we speak to some of the businesses leading the charge for innovation in Greek market, and assess the opportunities for growth.
Europe's Finest 2017: Celebrating New Store Design
ESM: The European Supermarket Magazine is proud to present the return of Europe's Finest, our look at the most innovative store developments, openings and redesigns over the past 18 months. In this special edition, we pay tribute to those retailers across Europe that are breaking the mould, delivering new twists on old formats, or rethinking the store concept altogether. Click here for more information.
Olives & Olive Oils
The benefits associated with the Mediterranean diet, coupled with quality production levels from producers around Europe, means that there has never been a better range of Olive and Olive Oil products available for consumers. ESM looks at the trends behind this growth, as well as what consumers are demanding from the categories. We also speak to some of the leading firms that are driving this 'olive Renaissance' across Europe.
Tea, Coffee and Hot Drinks
Driven by the major coffee chains, the global market for hot drinks remains dominated by coffee, however tea is set to make continued gains over the coming years, according to Euromonitor International. With this in mind, in the next issue of ESM, we examine the opportunities open to suppliers in the growing Hot Drinks industry, what trends are driving the market forward, as well as examine how retailers are capitalising on consumers increased taste for quality products.
Retail Technology – Information Technology
The retail industry has now entered the omni-channel age, necessitating greater investment in digital services. An essential support mechanism for retailers seeking to expand their omni-channel presence is an embrace of cloud computing and data analytics, which until recently has been seen more as 'nice to haves' by the retail sector, which has perhaps lacked the tools to sufficiently process 'big data'. In this report, we look at the IT options available to retailers, in an ever-changing retail landscape.
Franprix - Leading French Convenience
Exclusive interview with Jean-Paul Mochet, chief executive of Franprix, one of the leading convenience store chains in France. The business, which is part of Groupe Casino, has just unveiled a new store concept, Franprix Mandarine Vitaminée, which looks like it might rewrite the rulebook when it comes to proximity retailing.
Consumer Goods Forum Global Summit Report
Special report from the Consumer Goods Forum Global Summit, taking place in Berlin in June, and featuring presentations from some of the biggest names in retail and FMCG, including Metro's Olaf Koch, Edeka's Markus Mosa, Mike Coupe of Sainsbury's, Ulf Mark Schneider of Nestlé and Grant Reid of Mars.
Private Label Showcase
Following the PLMA World of Private Label exhibition, taking place at the end of May in Amsterdam, ESM spotlights the latest private label innovations from across the European retail sector in our annual Private Label Showcase.
Plus Much More, Including:
Interview with Tomas Garvey of Ireland's forward-thinking Garvey Group, which boasts some of the most innovative store concepts in the Emerald Isle.
Analysis on the latest trends in the packaging sector from Moody's Investors Service.
ESM's regular Europe's Newsmakers section profiles the men and women making the news within the grocery retail sector over the most recent quarter.
Subscribe now to take full advantage of this exclusive content.
Advertising
For further details on any of these features, contact the ESM sales team at:
Niall Doyle   [email protected]
Des Ball   [email protected]
Alex Silva   [email protected]
Marek Fialek   [email protected]
Rocio Palma Perez   [email protected]
Neill Burke  [email protected]
Click subscribe to sign up to ESM: The European Supermarket Magazine. Content subject to change. For details of our sales packages, click advertise.