Coming Up In ESM Issue 1 2019
Published on Dec 4 2018 3:15 PM in Features tagged: ESM / ESM: European Supermarket Magazine / ESM Issue 1 2019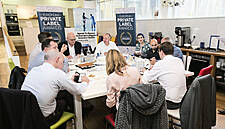 Copy Deadline: 31 January
Goes to Press: 5 February
The year 2019 promises to be an eventful one in retail, and with this in mind, ESM kicks off the year with a bang, as we speak to the new man at the helm of one of Europe's biggest retailers, Ahold Delhaize, reveal the winners of this year's European Private Label Awards, and explore the latest trends in Retail Technology, Dairy Products and Sustainability.
European Private Label Awards 2019: The Winners
Following our announcement of the latest crop of finalists in the European Private Label Awards in the final issue of last year, in this issue ESM is proud to present the winners of this year's contest, across 12 categories: Dairy Products, Convenience Foods, Ambient Grocery, Confectionery & Snacking, Beverages (Non-Alcoholic), Beverages (Alcoholic), Meat & Seafood, Non-Food (Household), Non-Food (Personal Care), Frozen Food, Pet Care and Tea, Coffee and Hot Drinks. The European Private Label Awards is in association with M.A.D.E. (Marques Associées Distribution Event).
Retail Technology
Retail Technology is advancing at a rapid pace – while over the past couple of years, customer engagement and next day delivery were a key focus, now, the spotlight is on how artificial intelligence is set to reshape retail as we know it. In our annual report on the latest developments in retail technology, ESM examines the technologies that are assisting retailers take the next step, as well as looking ahead to what the future might hold. Includes interviews with senior executives at Ocado, Metro AG, Kesko and more...
M.A.D.E. 2019 Preview
The year 2019 is set to be the biggest yet for M.A.D.E. (Marques Associées Distribution Event), which takes place in Paris on 19 and 20 March. The event will this year feature the theme 'Phygital Food & Life', examining consumer demand for products where, when and how they want them. ESM looks forward to a must-attend trade show.
Shop Fitting
The consumer is changing, and thus the physical retail space must change with it. Retailers need to ensure that the fixtures and fittings in their outlets are fit for purpose for the needs of the rapidly changing retail environment, particularly as new trends such as food to go gain prominence. ESM examines the importance of forward-thinking Shop Fitting, and talks to fit out firms about the need for investment in this area.
Dairy Products
Dairy prices have fluctuated quite considerably in the past year, while the sector has also faced challenges relating to consumer perceptions about the fat content of certain dairy categories. This in turn has spurred retailers and suppliers into action, with the Dairy Products category now a hotbed of industry innovation. ESM examines how companies operating in the dairy sector are seeking to attract new shoppers to the category.
Sustainability & Future Proofing Your Business
Sustainability is a hot topic in retail at present, with efforts being made to embrace more efficient heating, refrigeration and lighting systems, improve the effectiveness of supply chains, and even turn the roofs of stores into self-generating solar substations. But how can businesses be sure that the investments they are making will continue to be effective a few years down the line? ESM reports.
Plus Much Much More, including
ESM travels to New York to meet the recently-appointed chief executive of Ahold Delhaize, Frans Muller, who is seeking to drive more inspiration and creativity at the retailer, including integrating more technology into its operations on both sides of the Atlantic.
ESM's regular Europe's Newsmakers section profiles the men and women making the news within the grocery retail sector over the most recent quarter.
ESM's regular Private Label Showcase feature highlights the latest own-brand innovations from across Europe, which continue to raise the bar within select grocery categories.
Plus much much more…
Subscribe now to take full advantage of this exclusive content.
Advertising
For further details on any of these features, contact the ESM sales team at:
Niall Doyle   [email protected]
Des Ball   [email protected]
Rocio Palma Perez   [email protected]
Neill Burke  [email protected]
Alan O'Brien  [email protected]
Click subscribe to sign up to ESM: The European Supermarket Magazine. Content subject to change. For details of our sales packages, click advertise.