ESM Meets…. Stephen Young, Musgrave Retail Partners Ireland
Published on Feb 28 2017 11:50 AM in Features tagged: Logistics / Musgrave Retail Partners Ireland / EuroShop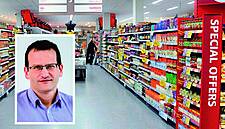 Ahead of EuroShop 2017, which runs from 5 to 9 March in Düsseldorf, ESM caught up with Stephen Young, National Transport Manager at Musgrave Retail Partners Ireland, which operates the SuperValu and Centra banners in Ireland, to discuss how the business is embracing technology and positioning itself for growth.
ESM: In what ways have you integrated new technologies into your operations in recent years? How has this improved efficiency?
Stephen Young: We have a vision of becoming a paperless operation and use the newest technologies for both transactional processing and analytics. We have invested heavily in our warehouses in voice technology. We are also reviewing advanced technologies for order picking trucks. This has brought both productivity and accuracy benefits, leading to improved costs but also enhanced on-shelf availability.
We are also in the final stages of a rollout of a transport management system which will lie at the heart of the operation. This will control operational activity, backhaul and invoicing, vehicle maintenance, legal compliance and provide analysis to support cost improvement.
When integrating new technologies, or updating your system, how big a factor is cost when making your decision?
The cost benefit of any enhancement is clearly important. We will always trial new technology to test 'real life ' savings. A business case can then be established. Many new technologies are becoming cost-effective, with the implementation of cloud-based solutions or when they are integrated into vehicle design. It is also important to consider that many initiatives to improve environmental performance also save cost. A simple example is onboard telematics, which monitor driver fuel performance. Improving mpg is environmentally friendly and is also a major driver of reducing cost.
What do you think is the biggest new trend that is emerging in your industry, and how are your tailoring your business to meet this challenge?
There are a number of key trends. Firstly, data analytics - all activity can be measured and reported. Often the challenge is taking data and converting it into meaningful insight. Secondly, environmental and safety concerns - we are constantly seeking to utilise new technologies and design to improve our impact on society.
In a wider retail context, the move from a traditional logistics operation delivering to stores on a business-to-business basis, to a mixed model incorporating business-to-consumer though multiple supply chains, is requiring rapid change. This is especially apparent as the digital space introduces new concepts almost weekly. The key is to develop a supply chain which can interact/intersect with peoples lives wherever required.
How important is it for you to 'futureproof' your business against any further changes in the marketplace?
Futureproofing is important but increasingly difficult given complexity. We are constantly benchmarking our supply chain against businesses in the UK, Europe and USA. Technological change is constant.
However, in an Irish context, the impact of globalised issues such as Brexit will potentially have significantly greater impact, as Ireland is a small open economy with a food supply chain that has become dominated by supply ex-UK distribution centres in recent years. This could have profound impacts on availability and cost into the future.
Agility and flexibility will also be essential with the digital economy, where bricks and mortar are no longer a prerequisite for a retail offering.
For further information, visit www.euroshop-tradefair.com.
© 2017 European Supermarket Magazine – your source for the latest retail news. Article by Stephen Wynne-Jones. Click subscribe to sign up to ESM: The European Supermarket Magazine.