Grocery Is One Retail Corner Amazon Hasn't Killed Yet: Gadfly
Published on Sep 28 2016 10:45 AM in Features tagged: Trending Posts / E-Commerce / Amazon / Online / Grocery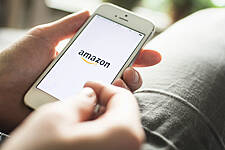 Online grocery is still anyone's game.
Fresh Direct, one of America's oldest online grocers, on Monday announced a $189 million cash infusion to help the 17-year-old company expand operations beyond the New York and Philadelphia metro areas. The investment, led by JPMorgan Asset Management, pushes the total funds raised for grocery delivery startups past $1 billion so far this year, according to research firm CB Insights.
It also highlights a rare corner of the online retailing business still in play; despite Amazon's ability to corner the vast majority of online shopping, it hasn't yet figured out how to dominate the $1 trillion U.S. grocery market.
Amazon controls less than 1 percent of a fragmented U.S. grocery business. American consumers are buying groceries online, but haven't changed their food-buying habits as quickly as they have for, say, buying shoes or electronics. But if the U.K. market is any indication -- government statistics show 5 percent of grocery shopping is done online there -- then the shift is coming.
Amazon has made it clear it intends to go after grocery the same way it took on books and electronics. Its Amazon Fresh grocery service, which promises grocery delivery within 24 hours, has recently expanded to new new locations, including Boston and London.
But the slow roll out of Amazon Fresh has already taken nearly a decade, in contrast to other Amazon programs such as Amazon Prime Now, the same-day delivery service that went practically nationwide after a year or so.
Amazon Fresh is still pricier than competitors, when taking into account its $299 annual membership fee. Building out refrigerated warehouses and carrying inventory make its grocery business a costly program for an already profit-challenged company.
Amazon and other online grocery services are also learning that old food-shopping habits die hard: Many consumers still prefer to grab fresh food on their way home from work or make weekly shopping excursions. Buying groceries on Amazon requires the same kind of meal planning of a regular shopping trip, but also means shelling out a hefty fee for delivery.
And the competition is steep.
On one front, plenty of upstarts are muscling their way into online grocery delivery. Take Postmates and Instacart, whose latest round of funding included an investment from Whole Foods. Instacart, which delivers groceries from local supermarkets and other stores in less than an hour, has raised around $275 million, at a valuation of around $2 billion, according to a Bloomberg report.
Meanwhile, a new industry of meal-delivery services such as Blue Apron and Hello Fresh has cropped up, cutting out grocery purchases altogether by buying ingredients wholesale and packaging them for customers in single-meal portions. Blue Apron is aiming for an IPO at a $3 billion valuation, Bloomberg reported Tuesday.
Then there are the traditional grocers such as Walmart, Kroger, and Stop and Shop/Peapod parent Ahold. They have plenty of cash and are hell-bent on stopping Amazon from doing to their business what it did to apparel and electronics retailers. These grocers are quickly developing their own online services, while also sizing up potential acquisitions.
It's not too late for any of these companies. As my colleague Shira Ovide and I have pointed out, traditional grocery stores have years of customer loyalty, shopper data, and the blessing of physical proximity to most Americans. The battle for their grocery dollars is on.
This column does not necessarily reflect the opinion of Bloomberg LP and its owners.
News by Bloomberg, edited by ESM. To subscribe to ESM: The European Supermarket Magazine, click here.