Jan Zandbergen – Experts In Innovative Meat Concepts
Published on Oct 18 2018 3:50 PM in Features tagged: Meat / Jan Zandbergen / The Meatlovers / Roosterz&Co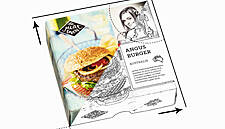 Jan Zandbergen specialises in delivering 'World-Wide Quality in Meat', with the Veenendaal-based business at the forefront of developing innovative new concepts in the category.
Ahead of this year's SIAL exhibition, ESM caught up with Laurens Zandbergen, marketing manager at Jan Zandbergen, to discuss the inspiration behind some of the brand's most successful concepts.
ESM: Jan Zandbergen prides itself on developing unique concepts in meat and poultry. What have been some of the most successful concepts that you have developed, and why is innovation so important to the company?
Laurens Zandbergen: We have always been keen to serve our customers as best we can. That means more than just providing meat and service. We look at market trends and listen very closely to the values of customers and consumers.
We saw that our focus on quality and consistency was something that customers were looking for as well. That's why we started some years ago with '1788', our first beef brand in foodservice. More brands and concepts for foodservice followed. Nowadays, our services and new concepts are no longer limited to foodservice. We see market opportunities, and some retail organisations visit us to discuss possibilities. Two successful retail examples of this are The Meatlovers and Roosterz&Co.
We noticed that consumers, as well as foodservice, were looking for high-quality meat. With this in mind, we launched The Meatlovers in the supermarket channel – a wide range of portion-controlled restaurant-quality meat from the best-selected regions of the world.
Jumbo supermarkets is the exclusive retailer for this brand in the Netherlands, but the brand is also available in several German supermarkets.
The idea for Roosterz&Co began when we discovered that almost every snack in the supermarket is not made from real cuts of meat any more. There is no texture and real taste any more. We knew that we could do better than that, and saw an opportunity.
We combined hand-cut chicken fillet with various coatings of herbs and spices. We then added technology and a crunchy crust to create delicious bites that are able to be quick and easily prepared in the oven or air-fryer. The result is much healthier and more tender. The chicken bites go by the brand Roosterz&Co and are available in the supermarkets of three different Dutch retailers. Interest in the brand has also been shown from other countries.
Innovation is important to survive – not only for us, but for companies in general. Sometimes, new concepts are the answer, but as well as that, a new or extra service can be the innovation that is a win-win.
In what ways does Jan Zandbergen work alongside its clients (retailers and foodservice operators) to develop unique, tailor-made products?
We are known to be concept-makers, but not all of them are developed on our own. We link customers' questions or business challenges to market trends, supplies, etc., while keeping in mind the added value for them.
For example, in retail, we developed The Meatlovers concept together with Jumbo Supermarkets in the Netherlands. They approached us with a question. During the discussion that followed, the idea of a concept with frozen high-quality meat products – with different origins of fresh meat – was born, with the range including burgers and steaks to somewhat larger portions. We worked out the name, packaging and product range, etc., keeping Jumbo Supermarkets in the loop.
This collaboration ensured a success during launch and has made the concept what it is today. We continue to perform evaluations together, to implement new products.
The Roosterz&Co brand has been included in the SIAL Innovation showcase this year. Why is this product particularly innovative, do you think?
This has to do with the combination of numerous things that make this concept unique. First of all, it is made from real hand-cut chicken fillet, so the product distinguishes itself in quality from many other finger foods.
Secondly, our technology made it possible to get a crunchy result by preparation from the oven or air-fryer, perfectly fitting the health trend.
Thirdly, it is GMO-free, low in salt, and halal friendly, meaning: it is suitable for people who have special dietary requirements based on health or cultural backgrounds. Currently, the assortment consists of nine different flavours.
Last but not least, we gave the packaging a premium look and feel, to make it stand out and give the right impression.
Where do you source your meat products?
We source our meat products from the best regions of the world. The selection is based upon strict EU criteria backed by our own high standards throughout the whole supply chain. We guarantee this by regular visits and audits of our quality department.
As a fresh/frozen category, meat relies on a highly efficient, effective supply chain. What efforts has Jan Zandbergen made to optimise its supply chain?
During transit from origin to Europe, the meat has enough time to age under temperature-controlled conditions. Thanks to our own customs and clearance department, we are able to efficiently handle all the documents without delay.
Next to that, we have built our new processing and packing facility adjacent to our headquarters and fully automated cold store. All are strategically located in the centre of the Netherlands, close to Rotterdam Harbour and Schiphol Airport, and, at the same time, close to the border of Germany.
With our own fleet of trucks, we are able to be more flexible and on time. From here, we are able to directly supply our customers.
What are you hoping to achieve at this year's SIAL event in Paris?
This year, we are hoping to showcase our capabilities towards EU retail and foodservice. We are therefore bringing our Michelin-star chef, Jonathan Zandbergen, with us, to let visitors to SIAL experience the difference between good and exceptional.
For more information, visit www.janzandbergen.nl.
© 2018 European Supermarket Magazine – your source for the latest retail news. Sponsored content. Click subscribe to sign up to ESM: European Supermarket Magazine.