LVMH Looking To Expand Argentinian Wine Brand
Published on May 4 2015 12:46 PM in Features tagged: Trending Posts / Wine / Argentina / LVMH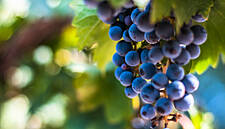 Cheval des Andes, a venture between Chateau Cheval Blanc in Bordeaux and Argentina's Terrazas de los Andes, may build its own winery as a next step for the brand that brings an upscale French twist to South American malbec wines.
Cheval des Andes has used facilities within the existing Terrazas winery since its first vintage in 1999, making about 70,000 bottles a year from its own vats and sorting tables. While director Pierre Lurton says the system works well, a dedicated winery would enhance the brand's image as an estate.
The Cheval des Andes label has been developed by LVMH Moet Hennessy Louis Vuitton SA, the world's largest luxury-goods maker, whose Chief Executive Officer Bernard Arnault controls both Cheval Blanc and Terrazas, the latter through LVMH's Estates & Wines division. It sells for about $60 a bottle, four times the price of a typical Argentinian malbec, and is designed to age for 10 or 15 years in the style of a classic Bordeaux.
"For the moment I continue to work in Terrazas," estate director Pierre Lurton, who oversees both Cheval Blanc and Chateau d'Yquem in Bordeaux, said in an interview in London. "In time I hope, in the middle of the estate in front of the mountain, it's possible to put a winery of Chateau Cheval des Andes. People, when they come, are visiting the estate, the winery, the landscape."
Mountain Climate
Cheval des Andes is made from a 50 hectare (125 acre) vineyard with old malbec vines in the Las Compuertas district of Argentina's Mendoza region, in the shadow of the Andes. The stony soil is a sandy loam at an altitude of more than 800 meters (2,600 feet), the height giving cool overnight temperatures ideal for ripening red grapes, while the dry mountain air keeps disease at bay.
According to Lurton, Cheval des Andes was inspired by other pioneering ventures between top Bordeaux estates and New World producers, notably Baron Philippe de Rothschild's Opus One project in California's Napa Valley, started with Robert Mondavi in 1979, and Almaviva in Chile, initiated by his daughter Philippine with Vina Concha y Toro SA in 1997.
"I remember in '98 the board meeting in Paris, the Cheval Blanc board meeting with Bernard Arnault and Albert Frere," co- owner of the Bordeaux vineyard, Lurton said in March, recalling being asked then if LVMH could consider a similar project in Argentina. "I said perhaps it's possible."
Old Vines
When Lurton visited Mendoza soon afterward, he said he was impressed by the quality of the wine and structure of tannins obtainable from old-vine malbec dating back 50 or 60 years or more. Some vines on the Terrazas estate date from 1929.
He also said the link with malbec was intriguing because of its history in Bordeaux, where the grape accounted for 40 percent or more of the blend in the 1850s, before the phylloxera pest hit the region and wiped it out. Malbec was imported into Argentina from France in the 1860s and has become established as the country's most renowned grape internationally.
Cabernet sauvignon, a flagship Bordeaux grape, also plays an important part in Cheval des Andes. In the first vintage the blend was 60 percent cabernet sauvignon and 40 percent malbec. Now malbec is between 55 percent and 60 percent of the wine, giving more local character, with the rest cabernet sauvignon and some petit verdot, another Bordeaux grape that adds spice.
'Exotic Style'
"It's an exotic style with a French touch," Lurton said. "You have the fantastic complementarity" between the Bordeaux team in Cheval Blanc and the team in Mendoza.
Cheval des Andes is part of LVMH's Estates & Wines division, which encompasses wine labels around the world including Cloudy Bay in New Zealand, Cape Mentelle in western Australia, Newton Vineyard in California's Napa Valley and Numanthia in Spain's Toro region. It also has a presence in Brazil, India and China.
Lurton said his aim is to make aging wine in Argentina that captures the personality of the local malbec grape while tapping into the expertise of Bordeaux.
"It's not the objective to make Bordeaux wine in Argentina," he said. "The first objective is to make Argentina wine." Lurton said the first vintage from 1999 had kept "a lot of freshness" and that wines from vintages such as 2007 and 2008 are now ready for drinking. Cheval des Andes is sold in Argentina, the U.K. and U.S. and is just starting to break into the Asian market.
Hot Harvest
He said the estates he manages in Bordeaux and Argentina can learn from each other, citing the example of the unusually dry conditions which hit Cheval Blanc in 2003 during a hot summer in France. Lurton said his experience in Mendoza's high- altitude vineyards helped him manage the extreme climatic conditions in France that year.
Similarly Lurton said Argentinian vineyards can benefit from Bordeaux winegrowers' experience of early picking of grapes, noting that "the experience of a different part of the world is very important."
Bloomberg News, edited by ESM