M&S's Badly-Needed Changes Won't Come Cheap for CEO Rowe: Gadfly
Published on Sep 6 2016 11:00 AM in Features tagged: Featured Post / Retail / UK / M&S / Marks & Spencer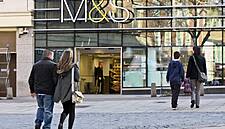 These are not just job cuts, these are M&S job cuts.
Marks & Spencer is to ax about 500 jobs at its London head office, and an announcement could come as soon as this week, Bloomberg News reported.
While job losses are never easy for the individuals concerned, these cuts, to be implemented by new chief executive Steve Rowe, are long overdue, as Gadfly has argued. And, he should go further.
Under his predecessor, Marc Bolland, head office staff numbers ballooned 30 percent between 2011 and 2016.
Some of this increase was due to M&S bringing its website operations under its own roof. The service was previously outsourced to Amazon.
But Bolland allowed head office staff numbers to swell just as sales and profits were falling. A big rationalization, particularly among mid- to upper-management, was a notable omission during his six years at the helm. He ought to have tackled headcount himself.
Rowe, who only took over the helm in April, is making a good start. The cuts would account for about 15 percent of the roles at M&S's headquarters in Paddington. More than half are to affect contractors, Sky News reported Sept. 3.
But Rowe should go further. He is reviewing the group's international operations, and should prune its domestic store estate. That could have further implications back in the head office.
And the clothing market remains extremely difficult. An abrupt end to summer with cooler temperatures over recent days should help to boost sales of higher-priced coats and sweaters. But M&S is also at risk from any loss of confidence post-Brexit.
Meanwhile, there is no let-up in competition from the likes of Primark, and Inditex's Zara. Even supermarket Sainsbury is upping the ante. On Tuesday it will launch a new premium clothing line, creating yet more rivalry for M&S.
Rowe, an M&S lifer who started on the shop floor, hasn't been afraid to take difficult decisions.
He has already culled some senior managers and faced protests over changes to pensions, and pay to shop-floor staff. Although M&S announced an improved offer on both fronts on Friday, it has continued to face criticism over staff conditions.
Change is badly needed at M&S. But it won't come cheap. There is likely to a one-off cost associated with the head office staff cuts. Exiting leases, if Rowe closes stores at home and abroad, will be expensive. He already warned in May that profit this year would be hurt by measures to try to improve the clothing business. The shares are down more than 20 percent this year, and any further hit to earnings would likely be punished by investors.
Nevertheless, Rowe should continue to make brave choices -- on jobs, the international store network and the domestic property portfolio -- no matter how painful they might seem right now. Without this, there is little hope of improving M&S's performance in the medium to long term, and regaining its lost sparkle.
This column does not necessarily reflect the opinion of Bloomberg LP and its owners.
News by Bloomberg, edited by ESM. To subscribe to ESM: The European Supermarket Magazine, click here.