Tuttofood Readies Itself For Biggest Show To Date
Published on May 1 2015 4:44 PM in Features tagged: Featured Post / Italy / Tuttofood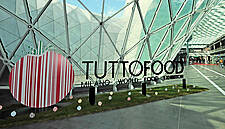 More than 2,500 companies will pack into 180,000 square metres of exhibition space from 3-6 May for one of the biggest and most important trade events in Europe this year: Tuttofood 2015.
The entire exhibition space across Tuttofood's ten sprawling pavilions (four more than 2013, when it was last staged) has long been fully booked, with many companies put on a waiting list; such is the anticipation ahead of this year's event.
Tuttofood 2015, organised by Fiera Milano, is expecting the thousands of companies taking part to come from a broad spectrum of the agri-food sector, including representatives from all sectors of the European food industry. In addition, there will be local associations from all over Italy present, showcasing indigenous innovation and initiatives.
Those industries that have chosen to participate in the show attest that Tuttofood is one major trade fair where you will certainly pick up on trends and be offered previews of the market.
Core Sectors
The Meat and Salami category will have an increased presence at Tuttofood this year, with leading companies such Rovagnati, Beretta, Citterio, Fiorucci and Golfera pencilled in to attend.
The sweets section, Dolce Italia, is shaping up to be interesting as well, with participation from Caffarel, Galbusera, G. Cova, Balocco and Corsini Biscotti, among others.
As for those categories considered more traditional, many leading companies have also confirmed their attendance. These include Parmareggio, Galbani, Latteria Montello, Latteria Soresina, Parmalat and Zanetti in the Dairy Products section, while in Mixed Products (taking up three pavilions – double the space of 2013), leading players such as Noberasco, Petti, Gruppo Lo Conte, Saclà, Pedon, Urbani Tartufi, Divella, Olio Dante and Amica Chips will all be present.
The Green Food area has also tripled in terms of volume this year, thanks to a dedicated zone featuring live cooking demonstrations. Key businesses from this sector that have signed up include Alce Nero, Riso Viazzo, Demeter and Bontà Viva.
Target Audience
In terms of visitors to the show, in addition to the 1,200 top hosted buyers (carefully selected based on their profiles, allowing productive meetings to take place), more than 11,000 additional buyers are expected. Meanwhile, Expo Milano 2015, which will open on 1 May and takes place a stone's throw from Tuttofood 2015, offers a raft of additional business opportunities for the companies and visitors present at the show. On 3 May, Tuttofood will also be present at the Italy Pavilion at the World's Fair.­
© 2015 European Supermarket Magazine – your source for the latest retail news.