Vote For The Most Holly Jolly Christmas Advert Of 2016
Published on Dec 19 2016 11:04 AM in Features tagged: Featured Post / Advertising / Christmas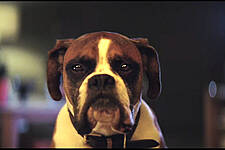 This festive season, ESM: European Supermarket Magazine's team of elves have scoured the continent for the most charming, thoughtful and funny Christmas ads produced by retailers across Europe.
Put your jingle bells on and peruse our '12 ads of Christmas', and vote for your favourite using the form below. The final results will be announced on Thursday, just before the big day.
Subtitles are provided for some of the ads, but the holiday spirit needs no translation...
Rewe (Germany)
This familiar tale of holiday stress details the triumph of a woman finally managing to impress her witch of a mother-in-law at the Christmas feast, to the tune of 'I Will Survive'.
English and German subtitles available.
John Lewis (UK)
This whimsical ad features Buster the boxer, who finally fulfils his dream of jumping on a little girl's newly-built Christmas trampoline after the neighbourhood's wildlife has had a crack at it. It was one of the most-watched Christmas adverts on Youtube this season.
Carrefour (Italy)
Putting their cute faces and persuasion skills to the test, children in Italy try to convince the Carrefour teddy bear that they are the right ones for him.
SuperValu (Ireland)
The Irish retailer's ad features the trials and tribulations of a traditional dysfunctional, frantic and ultimately lovely holiday season spent with family.
El Corte Ingles (Spain)
This Spanish ad is a glittering look at a magical factory that produces the retailer's eponymous Christmas wrapping paper. Scenes of family love and present wrapping and unwrapping ensue.
Lidl (UK)
The discounter's tearjerker is about a family patriarch's return to the home he shared with his beloved, dearly departed wife, after his children have secretly spruced it up for the Christmas season.
Coop Switzerland (Switzerland)
This ad follows an innovative but forlorn boy who is ignored by his parents, and whose only friend is a reindeer. Then a carpenter realises his genius and helps his dreams become reality, encouraging his family to spend time together.
Carrefour (France)
This carefully neutral ad from French chain Carrefour suggest that video gift cards can be the best way to send love (and presents) from afar, with a young girl cleaning out her piggy bank for that special gift.
Albert Heijn (The Netherlands)
A family goes to collect their Christmas tree the old-fashioned way, by chopping it down themselves. Poking fun at the Dutch penchant for DIY, the family gets the glorious pine home, only to realise it is too tall.
Aldi (UK)
This charming ad is about a magical carrot named Kevin, who gets his Christmas wish of meeting Santa (and helps motivate the sleigh team by being the literal carrot on the stick for a hungry reindeer).
Tesco (Ireland)
Tesco Ireland's ad this year features a montage of people thanking their loved ones for all of their time and effort put into making Christmas special, raising a glass to the hard-working hosts.
Edeka (Germany)
Similar to last year's wildly popular 'Heimkommen', this ad is about the importance of family. Stressed-out parents rushing around to create the perfect Christmas ignore their melancholy children, but eventually realise that lights and presents aren't the reason for the season.
English subtitles available.
© 2016 European Supermarket Magazine – your source for the latest retail news. To subscribe to ESM: The European Supermarket Magazine, click here.