Free From/Functional Food Expo 2018: Forward-Thinking And Thriving
Published on Jun 5 2018 11:10 AM in Retail tagged: Trending Posts / Free From / Free From Functional Food Expo 2018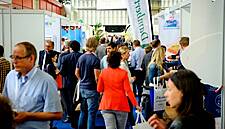 The sixth edition of Europe's leading free-from trade show, Free From/Functional Food Expo, welcomed 3,184 top food and drink professionals to Stockholm this May. Over two days, they visited 306 international exhibitors and attended a packed conference programme, discovering key drivers and future trends in the flourishing free-from market.
Free From Worldwide
Buyers travelled to take advantage of the unique platform that the show provides. Producers from around the world, including Italy, Germany, the Netherlands, the UK, Israel, Australia, the USA, Chile and Korea, exhibited their latest new-product development (NPD).
UK producers and products included Moo Free Chocolates, Bute Island Foods, Foodheaven, vegan cheeses, and gluten-free noodles.
As the gluten-intolerance centre of Europe, Italy was represented by many exhibitors this year. Gluten-free pasta, breads and pizza bases, reduced-salt and reduced-fat cold cuts, and free-from ingredients generated high demand from buyers. Producers included Probios, Brianza Salumi Srl, ABS Foods and Granarolo.
Better Connected
Top buyers and producers were introduced through the popular Matchmaking Programme, hosted by Enterprise Europe Network. A range of Innovation Guided Tours gave visitors the opportunity to learn how leading companies are responding to consumer trends in free-from, functional and food solutions.
Market-Leading Insights – 'Full Of', Not Free From
Fifty-five (55) industry experts gave insightful presentations in the two conference theatres, revealing key trends and the consumer habits driving future NPD, as well as practical advice on testing and labelling free-from food and drink. Olena Rogulis, Senior Research Analyst – Drinks at Euromonitor International, highlighted the rise of natural sweeteners, as sugar comes increasingly under the spotlight.
Reflecting emerging trends, the winner of the Best New Brand Award were producers of frozen vegan convenience meals, Lazy Vegan.
The CEO of Lazy Vegan, Vincent Bosgraaf, said, "We were particularly proud to have been selected as the winner of the Best New Brand Award in Stockholm, as there was lots of competition from newcomers exhibiting at the show. Free From/Functional Food has been a great platform to showcase our products to potential customers, not just from Sweden, but also the rest of Europe.
"The quality of visitors is really high. I've been really impressed that many of the big players are visiting. It's a great environment to talk to other relevant businesses and buyers directly," Bosgraaf added.
Winner of the Best Product of the Year Award was PaPicante GmbH, from Germany. Its savoury vegan snack bars are based on their own innovative ingredient, 'pea protein crisps'. The line is available in a range of internationally inspired flavours, such as American Style, Mediterranean Style and Asian Style.
Attendee Testimonials
Katarina Furin, Nordic Sales Manager of Best New-Product Award runner-up Edgy Veggie, commented, "I have to say that we've done a lot of European shows in the past 18 months, and the organisation here has been splendid. It is the perfect crowd for us, and a great place to meet retailers face to face."
Giulia Cecchini, Export Manager at Probios, said, "Italy has the highest rate of gluten intolerance, and we've been pioneering products to satisfy this market, both at home and overseas. This year there have been lots of new Italian exhibitors with exciting new brands and product ranges. Additionally, the quality of the contacts that we've met is very good, and I've seen lots of new faces, which is always a good sign."
Bute Island Foods said, "This is our third time exhibiting at the show. It's great to meet buyers who already know us and who are targeted, as this is when we get the best leads. We've met buyers who have been recommended to us by their colleagues. This makes coming to the show really worthwhile for us."
Ronald Holman, Exhibition Director, said, "Each show is at the forefront of the dynamic free-from sector, and this year's edition was no exception. We welcomed visitors from all of the major retailers from across Europe, including Ocado and Sainsbury's.
"As long as free-from and functional food continue to follow the now-established pathway onto retailer's shelves, operators' menus and, ultimately, onto consumer's plates, we will continue to provide one of the best platforms in the world to reflect and drive this," added Holman.
"The buyers we welcomed this year were targeted, and exhibitors responded well to this. Twenty-two per cent (22%) have signed up for next year, and Mintel have confirmed again as content partners," he said.
© 2018 European Supermarket Magazine – your source for the latest retail news. Sponsored content. Click subscribe to sign up to ESM: European Supermarket Magazine.