Brazil Probes California Firm For 'Biopiracy' Of Tropical Fruit Açaí
Published on Jun 13 2018 12:00 PM in Fresh Produce tagged: Brazil / açaí / Sambazon / Biopiracy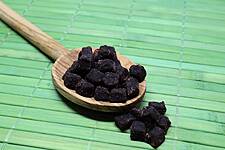 On Tuesday, Brazilian prosecutors said that they were investigating a US company for alleged 'biopiracy', accusing it of illegally using genetic components of the tropical berry açaí in the nutritional supplements that it sells.
The federal prosecutor's office for the northern state of Amapá, a main producer of the fruit, said that the company Sambazon, Inc. had used the genetic material of the fruit without permission.
Biopiracy is the unlawful appropriation or commercial use of biological materials, such as medicinal plant extracts, that are native to a particular country without providing fair financial compensation to its people or government.
Sambazon representatives in Brazil and its headquarters in California did not immediately reply to requests for comment.
Nutritional Amazonian Fruit
Privately held Sambazon makes fruit juices, fruit packs, frozen desserts and snacks, powders and energy drinks based on açaí imported from Brazil, the company's website claims.
Rich in antioxidants and amino acids, açaí is thought to be one of the most nutritional fruits of the Amazon basin and has become a favourite for health-conscious Californians.
The Brazilian government's environmental agency, Ibama, fined Sambazon 75,000 reais ($20,000) last year for not obtaining permission to use açaí genetic material for technological development. In its defence, the company said that its products were made by simply adding ingredients to açaí pulp.
Seeking Compensation
The new investigation seeks compensation for the communities that produce açaí in the Amazon rainforest in Amapá state, from where Sambazon imports the fruit, the federal prosecutor in charge of the investigation, Rodolfo Lopes, told Reuters.
Besides failing to get authorisation from Brazil's Council for the Management of Genetic Biodiversity, Sambazon had not fulfilled a promise to share profits from using açaí genetic material with the communities that picked the berries, Lopes said.
He said that a pickers' association complaint in 2008 had led to the fine, and now the seeking of civil damages.
Founded in 2000, Sambazon began by processing açaí into packs of frozen pulp mixed with guaraná, another berry from the Amazon that contains natural stimulants, and selling it to juice bars and fitness clubs in Southern California.
Açaí smoothies supplanted wheatgrass protein shakes as the drink of choice among athletes and bodybuilders. Sambazon now sells its products in grocery stores across the United States.
News by Reuters, edited by ESM. Click subscribe to sign up to ESM: European Supermarket Magazine.