Brazil Tainted-Meat Probe Triggers Bans From China To Chile
Published on Mar 21 2017 9:43 AM in Fresh Produce tagged: Trending Posts / Meat / Brazil / beef / Scandal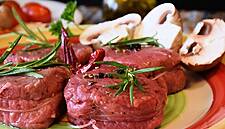 Some of the world's biggest protein buyers are slapping limits on supplies from Brazil, as producers in the country become embroiled in a tainted-meat scandal.
China, the largest importer of Brazilian chicken and beef, has temporarily suspended shipments from the South American country, while the European Union and Chile have restricted purchases. Singaporean authorities said that they're monitoring meat shipments from Brazil, as South Korea lifted its short-lived ban on chicken imports from BRF SA after confirming that it never purchased rotten chicken from Brazil.
The move to protect meat supplies comes after Brazilian federal authorities said last week that they're investigating evidence that companies including BRF and JBS SA, the nation's largest meat producers, bribed government officials to approve the sale of spoiled meat. Prosecutors allege that some sausages and cold cuts contained animal parts such as pig heads, that some meat products were adulterated with cardboard, and that, in some cases, acid was used to mask the smell of tainted meat.
Global importers were quick to take action in the wake of the scandal. China and Hong Kong were the destinations for about a third of the $5.5 billion of beef shipped from Brazil last year, according to the Brazilian meat-exporters' association, Abiec. They accounted for 17% of the chicken shipped by the South American nation, according to industry data.
China has said that it won't accept meat shipments until Brazil provides further clarification on the probe, while Chile temporarily banned all meat imports from Brazil.
Yum China Holdings, Inc., which operates the biggest fast-food chain (more than 7,500 restaurants) in China, declined to comment on whether it's affected by the scandal. McDonald's Corp., which runs 2,400 outlets, said that it doesn't import meat from the suppliers named in the probe. The company uses mostly domestic and Australian meat at its restaurants in China, according to a spokeswoman.
China edged past Brazil last year as the second-largest consumer of beef and veal, with both nations accounting for about 13% of global demand.
South Korean Reaction
South Korean retailers Lotte Shopping Co.'s Lotte Mart, E-Mart, Inc. and Homeplus Co. said that they are suspending sales of Brazilian chicken at their stores out of caution, even as the country lifted a temporary suspension on chicken imports from BRF. The lift came after government officials confirmed with Brazil that imports from BRF are from plants that aren't contaminated, according to the Ministry of Agriculture, Food and Rural Affairs.
BRF is the only supplier among the 21 plants named in the probe that ships to the Asian nation, according to the ministry. South Korea said that it has never purchased rotten chicken and will maintain strengthened inspections on imports from Brazil, which supplied about 89,000 tonnes of chicken, or about 83% of South Korea's imported poultry.
Brazilian authorities confirmed that companies implicated in the probe have been suspended from exporting to the European Union, according to European Commission spokesman Enrico Brivio. The EU had asked Brazil to stop the firms from shipping to the region. The bloc has suspended imports from four Brazilian plants, including one owned by BRF, Ricardo Santin, a director at the Brazilian Association of Animal Proteins, told reporters in São Paulo.
The European Union is the second-biggest destination for the beef and the third for the chicken, accounting for less than 10% of total shipments.
Vigilance
"We have asked our member states to be vigilant," Enrico Brivio told reporters in Brussels. "The commission remains in constant contact with the Brazilian authorities and is following this matter very closely."
JBS and BRF have taken out full-page newspaper ads and paid for prime-time television spots to reassure consumers that their meat is safe to eat, after finding themselves at the centre of Brazil's latest corruption probe.
The scandal may impede Brazil's plans to open new markets, including Mexico and South Korea for beef, after the US allowed imports of fresh meat last year, Antonio Carmadelli, the head of meat-exporters' group Abiec, said to journalists in São Paulo.
The US Meat Export Federation said that it's too early to speculate on the potential impact on the global meat trade because "there really are not enough facts available about the investigation, or about how Brazil's trading partners will respond," the group said in an emailed response to questions from Bloomberg.
News by Bloomberg, edited by ESM. Click subscribe to sign up to ESM: The European Supermarket Magazine.