Dairy Issue Nags As US, Canada Prepare To Sign Trade Pact: Sources
Published on Nov 28 2018 8:29 AM in Fresh Produce tagged: Trending Posts / Dairy / USA / Canada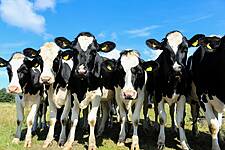 Dairy remains a sticking point between the United States and Canada as the countries prepare to sign a new North American trade pact this week, according to four sources familiar with the matter.
US objections to Canada's protected internal market for dairy products was a major challenge facing negotiators during talks on the new US-Mexico-Canada Agreement (USMCA), and the issue remains a problem.
US, Canadian and Mexican leaders are on track to sign the agreement on the sidelines of a Group of 20 summit in Buenos Aires, officials said. But days ahead of the 30 November - 1 December event, there are still disagreements.
Differences
A Canadian source said that while the government was sure dairy and other issues could be ironed out by the end of the week, this was not guaranteed.
Officials said differences sometimes emerge as bureaucrats examine language agreed upon by negotiators.
The sources said Ottawa was pushing back against US demands for more information about Canada's supply management system, a complex arrangement of production quotas and import tariffs designed to protect the domestic industry.
"There's been good progress but it's true that not everything is done. There is some concern on dairy - there are transparency issues with Canada's pricing scheme," said one of the US sources.
Concessions On Dairy
During negotiations, US President Donald Trump repeatedly demanded concessions on dairy and accused Canada of hurting US farmers with high tariffs.
Under the pact, Canada agreed to scrap a class of milk that US producers said was tantamount to circumventing anti-dumping rules. It also offered around 3.5% of the domestic market. In exchange, the United States backed off efforts to force Canada to scrap supply management.
"The US made a big compromise on that ... we want to know what they will do to prevent another circumvention," said the source, who asked to remain anonymous.
Ottawa is uneasy over the amount of information Washington is seeking, said a Canadian source briefed on the matter.
"We really don't want to be renegotiating the agreement," said a second Canadian source.
The office of US Trade Representative Robert Lighthizer was not immediately available for comment.
Adam Austen, a spokesman for Canadian Foreign Minister Chrystia Freeland, said "discussion around and work on the signing is ongoing".
'Greater Transparency'
Michael Dykes, president and chief executive officer of the International Dairy Foods Association, said that during the talks Washington sought to ensure it had closed any loopholes that would prevent access on dairy.
"The US wanted greater transparency to avoid any trickery ... (it) has a long history of challenges trying to determine what exactly the dairy policy is in Canada," he said in an interview.
Earlier this month a source said Canada was resisting US attempts to change the USMCA text and the issue might have to be referred to ministers.
News by Reuters, edited by ESM. Click subscribe to sign up to ESM: European Supermarket Magazine.