Driscoll's Raises The Quality Level Of The Winter Raspberry
Published on Apr 6 2017 1:40 PM in Fresh Produce tagged: Fruit / Driscoll's / Carmina / Raspberries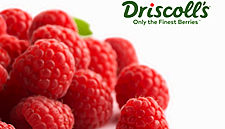 Last winter, Driscoll's brought the sweet summer taste to consumers with the Driscoll's® Carmina™ raspberry.
This successful raspberry, now in its second year of commercial production, is a unique Driscoll's variety that raises the quality level of the winter raspberry, which is available from early December until the start of March.
This variety is produced in Southern Europe and Morocco. Both in continental Europe and the United Kingdom, Driscoll's raspberries are proven to have very strong growth throughout all channels.
This is not only due to the much-appreciated variety Driscoll Maravilla, but also due to newer winter varieties, such as Driscoll's® Carmina™ and Driscoll's® Alicia™.
Through a unique breeding programme, Driscoll's aims to combine as many good qualities in one variety as possible. The flavour, appearance and condition of Driscoll's berries are outstanding; they taste sweet and fresh, have a nice, intense colour and are long-lasting.
Driscoll's raspberry varieties are silky to touch and delightful to taste.
Only the finest raspberries will make it into Driscoll's packs, and Driscoll's® Carmina™ is just that. Independent consumer research shows that the flavour is appreciated, scoring 6.8 out of 9 in comparison with other varieties, which were rated at 5.3. This is a variety loved not only by the consumer but also by growers.
From Morocco and Portugal to Belgium, Driscoll's delivers superb tasting berries to the consumer on a consistent basis, while guaranteeing great appearance and shelf-life.
Sponsored content. © 2017 European Supermarket Magazine – your source for the latest retail news. Click subscribe to sign up to ESM: The European Supermarket Magazine