Driscoll's Understands The Booming Business Of Berries
Published on Jan 18 2017 2:08 PM in Fresh Produce tagged: Driscoll's / Berries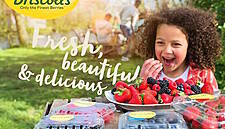 When it comes to healthy snacking, berries are bigger than bananas, apples, and even oranges in some markets. On top of that, data has shown that berry shoppers spend twice as much in store than regular shoppers. When the quality is right, the price is less relevant.
Quality is exactly what Driscoll's stands for, with a lot of berry expertise and a brand that builds consumer loyalty in a unique way. Discover what Driscoll's has to offer at this year's Fruit Logistica, where the brand will showcase its new identity.
Guaranteed For Joy
Working with the Driscoll's brand is a unique way to build consumer loyalty. Last June, Driscoll's introduced a new, emotion-driven global brand strategy that further differentiates the company from the commoditised fruit and vegetable industry.
It conducted consumer research across North America, Europe, Australia and China, and uncovered a strong, positive emotional driver of why people prefer to eat fresh berries compared to other popular fruits and veggies, like grapes, tomatoes, broccoli and avocados. A recent US survey found that more than 85% of people agree that eating berries makes them happy, which further supports these global research findings.
This consumer insight enables Driscoll's to promote berries as an emotional product that directly links to a feeling of happiness and joy.
Driscoll's aim is to share this berry joy! Are you ready?
"During the extensive consumer research, we were surprised about the level of emotion that consumers showed while talking about berries," says Marieke Appel, Marketing Communications Manager, EMEA, Driscoll's. "There is such a strong relation to nature, summer and childhood memories, particularly when the quality is right. We felt this had to be captured by the brand essence. This approach also matches our family-based company values very well. We have been seeking delight since the very beginning. We are convinced that our berries are not just consumed because of their nutritious value – sure, they are really healthy, but we are after more. We want to create simple moments of pure enjoyment."
A Trusted Brand
Driscoll's has become a trusted consumer brand for fresh, beautiful and delicious berries, and now wants to take the next step and show who is behind the brand and the great berries it produces.
Driscoll's new brand design was inspired by the berries themselves, as colourful 'pop icons' of the natural world. The individual colours and shapes of strawberries, blueberries, raspberries and blackberries are captured in a refreshing palette and an expressive typography. The fonts that Driscoll's uses are friendly and handwritten, and the iconic dot on the 'i' stands for the passion that Driscoll's has for its own berries. It also symbolises a moment – an ordinary moment made more special with berries.
Outstanding Varieties
The foundation of Driscoll's new brand positioning can be found in its longstanding focus on quality. Since 1940, Driscoll's has been breeding its own unique varieties.
Through an extensive breeding programme, Driscoll's aim is to combine as many good qualities in one plant as possible and translate consumer needs into berries that bring joy to consumers. This way, consumers know that when they find berries with the Driscoll's label, they will get only the finest!
Berry Expertise
Driscoll's also feels that there is a huge untapped potential for berries. In a number of European countries, berries are even bigger than bananas and oranges in value. With this in mind, Driscoll's ambition is to position berries as the number-one go-to candy in store, by investing in consumer insights and retail partnership.
How is the company going to achieve this? By focusing on developing a year-round supply of berries as the biggest opportunity to convince shoppers of a berry purchase outside the traditional season.
As Theo Houwen, Senior Vice-President/Managing Director, EMEA, Driscoll's, explains, "We want to extend and grow, but we always keep in mind that we are capable of delighting consumers 365 days a year. We do this step by step – by growing our own varieties, finding producers that connect with our vision, and then increasing volumes.
"What sets Driscoll's apart from the competition is, firstly, that we have a very large proprietary genetic programme, and, secondly, that we are very consumer focused in comparison to the traditional berry market.
"This is something we can only do by working closely together with our customers to develop the category."
For more information, visit www.driscolls.eu.
Sponsored content. © 2017 European Supermarket Magazine – your source for the latest retail news. To subscribe to ESM: The European Supermarket Magazine, click here.