Monsanto Market Share May Pose Obstacle to Syngenta Deal
Published on May 1 2015 9:45 PM in Fresh Produce tagged: Monsanto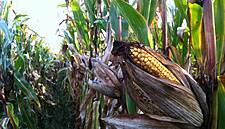 Monsanto, the largest developer of genetically modified crops, would face renewed antitrust concerns if it agreed to buy Syngenta AG because the combination would have an unprecedented market share in corn and soybeans.
Monsanto has approached Syngenta about a takeover, almost a year after a previous attempt failed, according to people familiar with the matter. To address antitrust issues, Monsanto has planned for a deal to include the sale of parts of the combined business, one of the people said Thursday.
The deal would create a behemoth in crop chemicals and seed with 2014 sales exceeding $30 billion, more than twice the agriculture revenue of its closest rivals, Germany's Bayer AG and DuPont Co. The combination would have about 28 per cent of the global crop-chemical market and 33 per cent of the seed market, according to Olivetree Securities.
"The main issue with a Monsanto-Syngenta combination is the dramatic antitrust backdrop," the London-based broker said in a note on Friday. "It remains to be seen how the regulators and customers would perceive such a combination."
In corn-seed, St. Louis-based Monsanto already has more than 31 per cent of the global market and more than 34 per cent in the U.S., according to data compiled by Bloomberg Intelligence. Buying Switzerland's Syngenta, which has a market value of about $36 billion, would increase that to almost 40 per cent globally and 45 per cent in the U.S.
There are additional considerations for regulators. For example, Monsanto's herbicide-tolerant Roundup Ready crops are widely licensed to competitors. And then there's weedkiller and other crop chemicals: a deal with Syngenta would probably give the combined company more than 50 percent of that market in the Americas, Morgan Stanley analysts said in a note Friday.
Monsanto's only current crop chemical with significant sales is Roundup, the world's most popular herbicide. Syngenta has a much larger portfolio of chemicals that includes atrazine, widely used in the US but banned in Europe.
The ubiquity of Monsanto genetic technology is partly why the company drew scrutiny from U.S. regulators in the past decade. The U.S. Department of Justice's antitrust division dropped its probe into possible anti-competitive practices in the seed industry in 2012, and at least seven states led by Iowa subsequently ended a five-year investigation without taking action.
Bloomberg News, edited by ESM