Pigs Using Muscle Drug Means US Missing China Pork-Import Boom
Published on Aug 12 2015 10:18 AM in Fresh Produce tagged: China / USA / Pork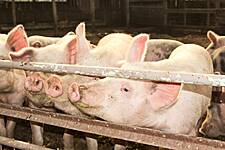 Hog farmers in the US, the world's biggest exporter, are losing out on a big payday because of a feed ingredient that many have been giving pigs for the past 15 years.
As hog and pork prices surge in China, the top consumer, its record imports this year will be dominated by Europe, not the US, according to Rabobank. Like dozens of countries, China bans the use of ractopamine that is fed to more than three- quarters of American hogs to help them gain muscle faster while eating less grain.
US pork exports to China are down 41 per cent through the first six months of the year to 90,896.1 metric tonnes, the lowest since 2010, government data show. Shipments are headed for a fourth straight annual decline, after plunging 34 per cent in 2014. Total sales this year to all foreign buyers are down 5.3 per cent at 1.086 million tonnes.
At the same time, production will reach a record 24.6 billion pounds this year, exceeding beef output for the first time in 63 years, the US Department of Agriculture said last month. While wholesale-pork prices are up 8.2 per cent this year to 90.17 cents a pound on 7 August, they are the lowest for that date since 2009 and down 34 per cent from an all-time high in July 2014.
Meanwhile, US exporters face competition from Canada and Europe, which benefit from a stronger dollar making American supplies more costly.
Olymel, Canada's largest pork exporter, has one ractopamine-free plant exporting to China, and rising demand is boosting prices, said Richard Davies, executive vice president of sales and marketing. Danish Crown, Europe's top processor, has seen increased Chinese demand over the last two or three months, said Jens Hansen, a spokesman.
Smithfield Foods, purchased by Hong Kong-based WH Group in 2013, has been working to remove ractopamine from all company- owned animals, it said in a 22 May statement. Smithfield is the world's largest hog producer and pork processor.
Last year, several US plants were disqualified as exporters to China after ractopamine-residue violations and labeling issues, according to the USDA.
News by Bloomberg, edited by ESM