What Is the Newest and Best Bet for the Food Business?: Gadfly
Published on Dec 14 2015 10:43 AM in Fresh Produce tagged: fresh produce / USA / neilsen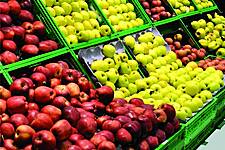 Americans are devouring fresh fruit at home and it's becoming a larger share of food budgets.
That's good news for supermarkets, grocers and other food retailers, because fresh produce is the most important driver of customer loyalty in those venues, according to Nielsen. Fruit shopping also requires more trips to the store, and every business loves repeat visitors, of course.
Americans spent $29.6 billion on fresh fruit at retail outlets in the year that ended on 1 November, according to IRI/FreshLook, a market research firm. That's up 14 per cent since 2012.
With more outlets offering fruit, only about 60 per cent of perishable goods are now bought at traditional grocers, according to Nielsen - down from nearly 100 per cent 15 years ago. Fresh fruit is now available in local gas stations, pharmacies and big-box stores, for example.
Immigrants to the US are also exposing shoppers to an ever-wider variety of fruit, because stores in some regions are selling what immigrants ate in their native countries. Transportation and storage advancements have also made it possible to consume some fruit year-round (such as avocados, papayas and berries, as well as many tropical fruits - boosting sales of those foods).
Even Americans' citrus cravings are changing: tangerines and mandarins are in demand while oranges are in decline (grapefruit consumption is down too, but that's because it interferes with anti-cholesterol drugs).
Less common fruit and those that were once too difficult to transport have seen the most growth. That segment has contributed more to the overall rise in fruit consumption than such category heavyweights as bananas, apples and oranges. Fruit is highly perishable, though, so supermarkets and grocers have stocking risks that don't come along with pre-packaged stuff such as Ring Dings.
Fruit is a bright spot in an otherwise bleak retail food market. Retailers like Costco and Wal-Mart are increasing the amount of space they assign to fresh goods, including fruit. Kroger, as my Gadfly colleague Shelly Banjo recently noted, is a pioneer in using analytics to target customer buying habits - making it well-positioned in the organic, locally-grown and fresh food arenas.
News by Bloomberg, edited by ESM. To subscribe to ESM: The European Supermarket Magazine, click here.